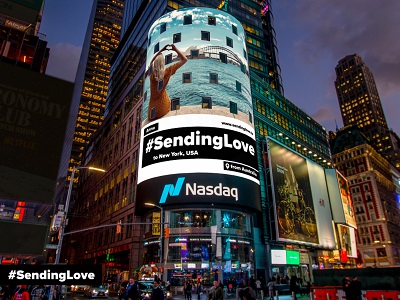 #SendingLove, the world's largest User Generated Content (UGC) powered DOOH campaign has wrapped. During its run, the campaign from Talon, Plexus and Grand Visual, delivered messages of love and solidarity to 180 cities around the world, whilst raising money for the global COVID-19 Solidarity Response Fund.
Facilitated by WOO, its members, and the Out of Home industry at large, phase 2 of #SendingLove saw even more media owners signing up to the cause, expanding the campaign footprint across Latin America, Russia, Europe, India and Africa. 80 media owners took part in total with donated media space spanning 40 countries and an amazing portfolio of digital billboards. Premium sites included the Piccadilly Lights in London, Nasdaq Times Square, and Central Worldwide House in Hong Kong.
As well as delivering UGC messages across thousands of OOH screens around the world, the campaign also generated 185 pieces of international news coverage from the US to China, and Australia to the Philippines, with many more countries in between. The social outreach has been a huge success, extending the life of the campaign to online audiences as participants shared their moment of fame with friends and family socially. The campaign has seen many local digital stories come to light during the month-long activation with local celebrities in Spain and China #SendingLove, and two brothers and their families connecting via billboards in Perth and Newcastle.
On the 22nd May, people from all over the world were #SendingLove to Manchester in a show of support marking the 3-year anniversary of the Manchester bombings. Plus, street-wear style icon and Insta sensation "Gramps" has sent love from Boston to his German homeland. The ubiquity of screens in cities around the world and the growing sophistication of ad-tech infrastructure is fuelling the adoption of OOH campaigns that are executed on a global scale. Integrating OOH with social media also allows for more memorable interactive conversations that extend beyond the original OOH canvas to digital channels maximising audience reach.
WOO General Secretary Mark Flys says: "This has been an inspiring campaign for the Out of Home industry worldwide. It shows what the Global industry can achieve when it works together and is clear evidence about the way OOH can connect directly with the millions on social media."