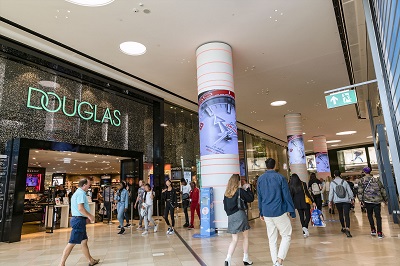 blowUP media Netherlands expands DOOH network The Collective® in Amsterdam, Utrecht, Rotterdam and Eindhoven by entering long term partnership with shopping center specialist Klépierre
Large format (Digital) Out of Home media owner blowUP media has signed an exclusive contract for the installation of 22 new 'Super Motion' digital screens (full motion) in the Dutch shopping centers of Klépierre. blowUP media are thrilled to expand its DOOH portfolio The Collective® with digital screens in the renovated Hoog Catharijne shopping center in Utrecht and the Alexandrium Shopping Center and the Markthal in Rotterdam. In this exciting step forwards, blowUP media is expanding its digital network to 27 premium large format Super Motions in the Netherlands, aligning with the success of the 'Premium Plus' strategy - the combination of Giant Posters, full motion digital screens and popUP experience stores. blowUP media offers advertisers a landmark network within the busiest locations of Amsterdam, Rotterdam, Utrecht and Eindhoven, and establishing a unique position in the Dutch (digital) OOH landscape.
The recently renovated Hoog Catharijne shopping center is the busiest shopping center attracting 30 million visitors per year, and is the second busiest retail hub in the Netherlands. Located next to Utrecht Central Station, it forms the most important connection to the old center of Utrecht. The multifunctional Markthal is currently one of the most iconic buildings in Rotterdam, and the Alexandrium Shopping Center forms a part of the largest shopping area in Rotterdam, offering a range of fashion, beauty, lifestyle, food and sports. The shopping centers where the blowUP media Super Motions will be located attract 46 million visitors annually. Most screens are live since July 13th.

Katrin A. Robertson, CEO blowUP media Group says, "The gradual expansion of our premium giant poster portfolio with digital assets is the logical continuation of our growth and innovation strategy with blowUP media. With networks such as The Collective®️ in the Netherlands or Frontline in Belgium, we offer brands first-class state-of-the-art premium digital exposure, additional to our landmark Giant Poster opportunities. We enable clients to engage with their target groups with maximum impact, such as large emotional images as well as flexible and dynamic content."

Launching partners Unilever (Lipton), OMEGA, H&M, Budweiser and Nintendo are the first brands advertising on the new digital screen network.
Ernst Vos, Chief Commercial Officer blowUP media Group says, "We are very proud of this long-term partnership with Klépierre Netherlands. The addition of Hoog Catharijne, Alexandrium Shopping Center and Markthal to The Collective®️ is strategically very important for our organic growth and development of the highest quality (digital) OOH platform in the top cities of the Netherlands. Of course, it is it exciting for us to invest in these times, but our entire team is ready to build (brand) trust and relevance together with advertisers and agencies."
Javier Cuellar, Country Managing Director Netherlands Klépierre says, "Digitization of our shopping centers is not only progressive, but also an essential development for the future of communication and retailtainment. We are incredibly proud to be able to offer more exposure to brands in our shopping centers. Through this collaboration with blowUP media, the modern digital screens can contribute to the customer journey of our visitors, by improving their experience and giving them the opportunity to be involved."
Positive impact content

Positive impact is important in everything blowUP media does. That is why the company also uses its portfolio as a platform for social issues and art, another form of impact. blowUP media offers the possibility to use The Collective® for more than just 'paid advertising'. For example, there is a long-term partnership with launching partner and non-profit organization Justdiggit. And blowUP art offers established and new artists and designers a platform to show creative work. Visual Director Damon van Drimmelen of PostNew made his an art contribution for the launch of The Collective® with 'Braille'.
The Collective website can be found here
Interested in becoming a member?
Fill in your details and submit the form, we will contact you shortly about membership...