MENA Forum Dubai 2023
The WOO MENA Forum 2023 - the Wrap up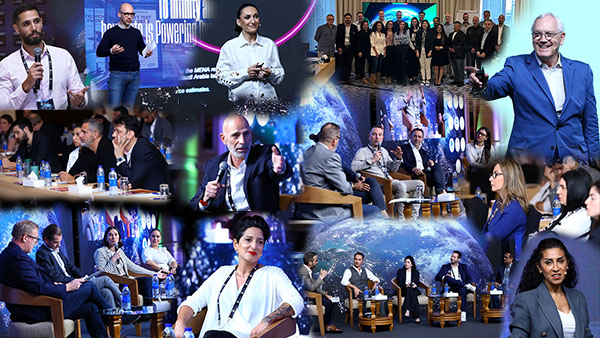 WOO MENA Forum breaks new ground in booming regional OOH market
Last week's MENA Forum in Dubai, the first in-person regional event to take place there, was a resounding success with over 200 delegates hearing a full programme of eminent speakers showcasing OOH's growing impact.
The Forum included panels on Audience Measurement, Programmatic and Creativity.
Speakers were drawn from the region's major media owners, media agencies, marketers and suppliers, all major growth drivers in their respective markets.

Day 1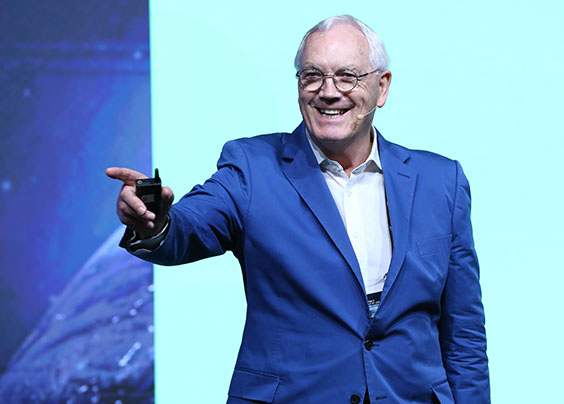 Day One began with a rousing call to action from WOO President Tom Goddard.
"The stars are aligned," he said, noting the bright prospects for OOH globally and in the MENA region, in particular. In some MENA countries OOH already accounts for over 20% of the media market against an average of 6-7% globally.
But he warned that while a range of positive dynamics are driving the medium forward, the industry needs to increase collaboration at all levels and shift from a focus on local competition to sector level cooperation to help combat the threat of other media.
To embed growth, he said, WOO members needed to:
Digitise more inventory
Invest in Adtech
Provide Quality Audience Metrics
Develop Data Analytics
Actively support and promote Trade Associations
Work Better Together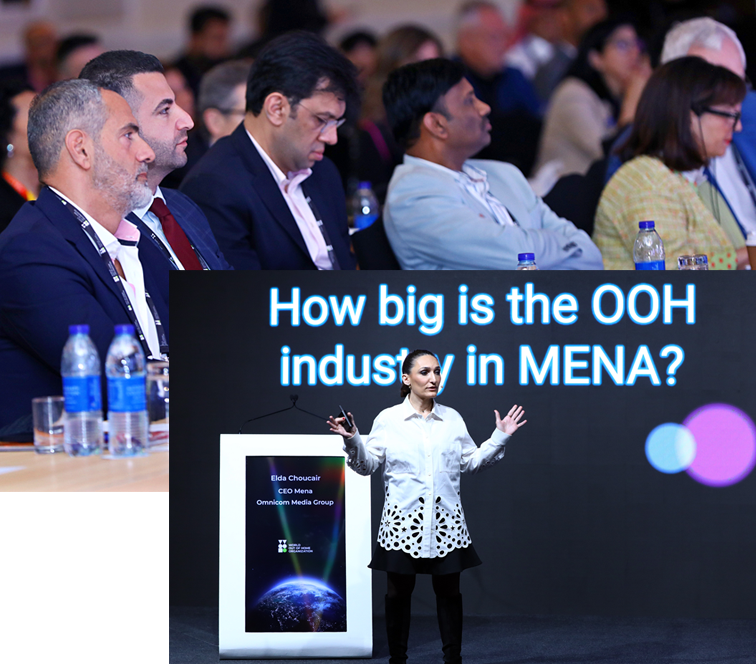 In the Day One Keynote OMG MENA CEO Elda Choucair brought the concerns of clients to the room in a presentation provocatively titled 'What would you bring to a gunfight: a knife?' She stressed the importance of measurement and an OOH currency, creativity, and sustainability to ensure the long-term prosperity of the medium.
This was followed by country and regional perspectives from Ghada El-Kari of the WGroup who highlighted the massive digital transformation taking place in the UAE followed by a North African review by Antonio Vincenti, Founder and CEO of Pikasso.
A Supply-side Panel moderated by Tom Goddard included Josh Busteed - CCO, MPN. Fawzi Tueni - COO, Arabian Outdoor, Martin Sabbagh - CEO Middle East & Africa, JCDecaux and Philip Matta - Group COO, WGroup (Hypermedia & DigitAll), discussed issues including the benefits of OOH Associations, the call from many including clients for greater transparency/measurement and how collaboration could benefit the sector.
Dentsu global head of OOH Ben Milne moderated a high-level panel on Sustainability from all sides of the industry which included Lénaïc Pineau-Group Chief Sustainability and Quality Officer for the JCDecaux Group, Mathieu Verbraken - Development Manager, Daktronics and Tina Chikhani-Nader - Head of Digital, Unilever.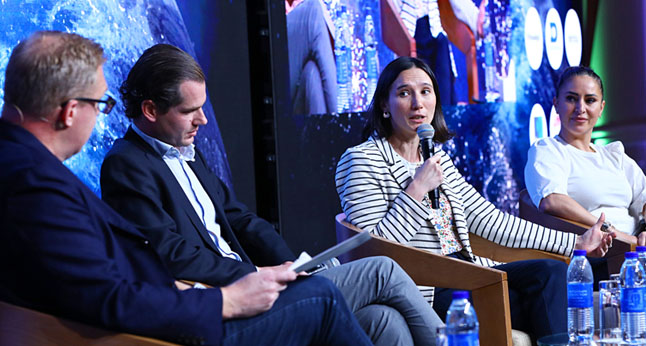 The clear conclusion was that sustainability was becoming an inescapable business driver which will only become more important for clients and consumers. COP28 to be held in Dubai later this year will add extra focus.
Creativity is a key differentiator of OOH and Havas ME creative director Serena Abi Aad with BackLite Media COO James Harrison presented 'Out of Home - a natural home for great creativity' highlighting the continuing importance of creative for every OOH advertiser, with striking and award-winning regional examples such as adidas' 'I'm possible' campaign.
Adrian Skelton Managing Partner, Talon International, Simon Bowthorpe, International Strategy Director Dooha Media and Bill Fordyce, COO Media, ELAN Group discussed the lessons to be learned from the recent Qatar FIFA World Cup.
Bowthorpe then went on to moderate a heavy-hitting panel on 'View from the OOH Buyer-side' including Amer el Hajj, Chief Investment Officer, Publicis Media, Ziad Chalhoub - Regional Exec Director, MCN IPG, Mansour Wehbe - Client Director, Talon MENA and Ramzy Abouchacra - CEO, Carat MENA - who offered a buyers' view of OOH and the need for amongst other things, a common currency for audience measurement, quicker adoption of workable programmatic practice and greater availability of digital screens.

Day 2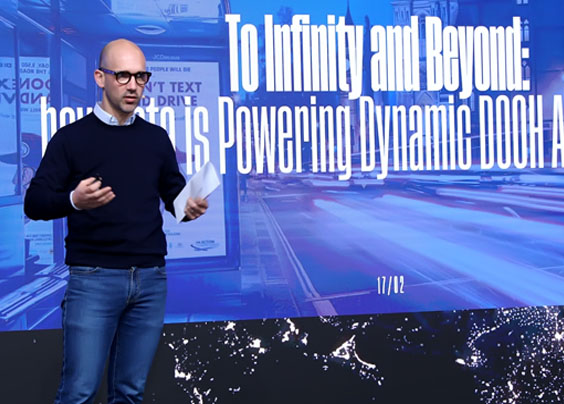 The theme of Day 2 was the 'science' of OOH, opened by François-Xavier Pierrel, Group Chief Data Officer, JCDecaux who highlighted the challenges of making data work in all aspects of OOH. This was followed by Talon's Chadi Farhat, MD Talon MENA and Group Chief Strategy Officer Sophie Pemberton who outlined the practical ways data is being deployed to enhance the effectiveness of OOH.
WOO consultant Gideon Adey then led a panel on Audience Measurement. Adey was joined by Maud Moawad, CEO & Co-Founder, Seventh Decimal; Saleh Ghazal, CEO, OMD MENA, Charles Parry-Okeden, Independent Chair, of Australia's OMA and WOO Board Member and Mark Flood, Global Head of OOH, Ipsos which outlined why better audience would help OOH both compete with and complement other media channels.
Seventh Decimal Co-Founders, CEO Maud Moawad, CEO and CTO Lewaa Hamadeh then outlined the ground-breaking work they'd undertaken in building their OOH measurement system in the UAE. This was followed Mark Flood of IPSOS outlining some of the various data options available to help OOH "unleash the power of our audiences."
The Audience session of the programme concluded with a presentation by the OMA's Charles Parry-Okeden on neuroscience based on work undertaken in the Australian OOH sector, including how the innovative qualitative measure Neuro Impact Factor (NIF) is helping drive positive perception and growth.
On the final day of the Forum Programmatic Trading featured heavily with Tarek Mezher, SaaS Sales, Broadsign leading the way with 'The world isn't ending, it's changing. So is Digital Out-Of-Home.'

Eamon Sallam, Co-Founder & COO, ELEVISION then moderated a Programmatic Panel which included Francesca Vincenti, Head of Programmatic, Pikasso, Srikanth Ramachandran, Founder & CEO, Moving Walls, Gregory Fournier GM The Trade Desk and Frank Vallenga, (D)OOH Enthusiast, Broadsign. The Panel examined in detail the current status and trends in programmatic trading across the region and the potential opportunities ahead.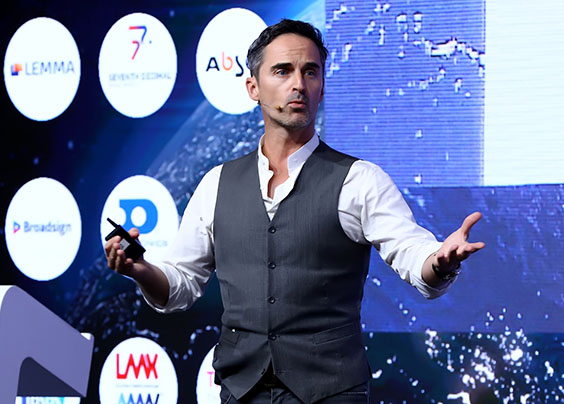 In the final session The Trade Desk's Gregory Fournier explored recent developments including the burgeoning opportunities for OOH in omnichannel advertising. Omnichannel is increasingly seen as a major opportunity for Out of Home to spread its wings and capture revenue hitherto seen as the preserve of other media in MENA and globally.
WOO President Tom Goddard summed up the Forum.: "We couldn't have wished for a better MENA Forum. The quality of the speakers was tremendous with really invaluable advice and tips for competing better and harder in an always challenging regional and global media market. We really couldn't have hoped for more.
"And, possibly even more important, it was an incredible chance for an industry across a huge and diverse region to come together, share their experiences and make common cause so we can move on strongly together.
"From a WOO perspective we received an amazing welcome, one which made us proud to play our part in a wonderful media industry."
WOO is currently uploading recordings of all the presentations as well as speaker slides. This process will be complete next week. These will be made available to all MENA Forum delegates and WOO Members. Delegates will be emailed with a specific password to access the recordings and slides to download.
WOO MENA Forum - Events & Global Sponsors

WOO MENA 2023 Media Partner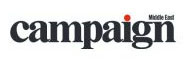 WOO Global Sponsors