Madrid 2011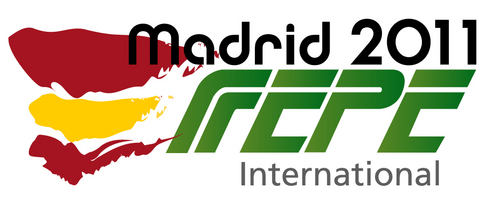 We hope that those of you who joined us in Madrid enjoyed our 52nd congress.

We certainly had a full programme and we enjoyed a real variety of speakers from many different sectors of the advertising business and indeed different parts of the world. Thank you to all of you who made the event so enjoyable.

Thank you particularly to our speakers who provided some really inspirational papers ,and made many of us take a different view of how we operate. Thank you also to the 9 exhibitors who joined us and shared information about their products. There was a great atmosphere of an industry truly working together for the great good.
We say a fond farewell to Christian Kauter who has been our President for 6 years and thank him for him valuable input over that time, and we give a warm welcome to Barry Sayer who has become our new President. We look forward to his leadership over the forthcoming period.
We will be visiting Milan for our 53rd Congress next year - so watch this space for dates and further information.
Here are links to the pdf presentations from the speakers at the 52nd annual FEPE Congress in Madrid. Click on each link and the pdf will open in a new window.
Gerd Leonhard, The Futures Agency - The next 3 years in Media and Advertising; Digital OOH meets SoLoMo (Social, Mobile, Location)
Download Gerd's presentation here
Antonio Morales, CEMUSA, Spain - Spain overview
Download Antonio's presentation here
Annarita Rondelli, Vodafone Italy - OOH in Italy, The Vodafone approach
Download Annarita's presentation here
Gerry Thorley, Eye Corp Australia - EYE on the future
Download Gerry's presentation here
Marco Pareschi, Komma, Italy - Outdoor for brand awareness; The 2011 Scavolini case history
Download Marco's presentation here
Simon Crisp, Kinetic Worldwide - Collaboration and market fit
Download Simon's presentation here
Lech Kaczon, Polish Economic Chamber for OutdoorAdvertising - I am driving, I am sober; The power of outdoor advertising
Download Lech's presentation here
Steffan Postaer, USA - Outdoor: A sign of the times...forever!
Download Seffan's presentation here
Rob Atkinson, Clear Channel UK - Writing our future
Download Rob's presentation here
Rafael Urbano, MPG Group, Spain - Out should be in: The role of Outdoor in media strategies
Download Rafael's presentation here
Hamish Pringle, IPA,UK - Where OOH fits within the media flow
Download Hamish's presentation here
Glen Wilson, Posterscope UK - The future is here
Download Glen's presentation here
Ralf Kaebe, Unitymedia Group, Germany - Customer expectations on OOH media or how to get more money out of your customers
Download Ralf's presentation here
Anna Reeves, CBS Outdoor International - Europe on the move
Download Anna's presentation here
Andrea Cimenti, Acqua Group, Italy - Outdoor and proximity
Download Andrea's presentation here
Greg Grimmer, HMDG, UK - Out with the old and into the new
Download Greg's presentation here
Oliver Grey, EASA, Belgium - Ensuring your future license to operate; the role of effective self regulation
Download Oliver's presentation here
Nigel Clarkson, Primesight, UK - Beyond the poster; Utilising new technologies for creative, posting and research
Download Nigel's presentation here
Pierre-Henri Bassouls, Prismaflex, France - The latest update from Prismaflex
Download Pierre's presentation here
Barry Sayer, FEPE President - Closing summary
Download Barry's presentation here