Toronto Congress 2022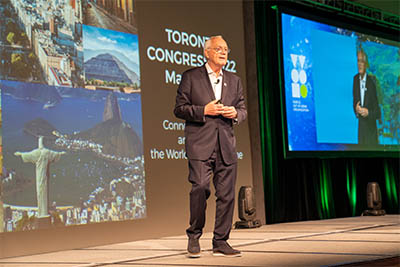 Out of Home readies for 'new Golden Age" at WOO Toronto Global Congress
Striking the right balance between Classic (traditional) Out of Home and all-conquering digital is one of the keys to sector growth for the medium, World Out of Home Organization President Tom Goddard told delegates at WOO's Global Congress in Toronto.
OOH has recovered strongly from the pandemic when, said Goddard, sales "sank like a stone," but, like other main media, is still losing ground to the digital tidal wave. Classic OOH accounts for 63% of revenues worldwide despite the rapid growth of digital OOH.
Striking such a balance would create another "Golden Age of Out of Home" said one of the keynote speakers at the Congress, Sean Reilly, CEO of Lamar Advertising, the biggest OOH company in the world by value ($13bn.)
Lamar is still a family-run company, founded in 1902, which has seen all the big changes in Out of Home, from messages glued to buildings to the digital OOH revolution. Still primarily a classic or traditional OOH company, Lamar now gains 27% of its revenue from the digital element of its estate, just 2.5% of its 356.000 displays.
Asking delegates, who included the world's biggest OOH media owners, advertisers and agencies, to "show some love," President Goddard continued: "Digital is an area where OOH continues to perform strongly and the focus of billions in investment. But we shouldn't forget the other key strand of Out of Home - Classic.
"We can rightly sing about the growth of Digital OOH and programmatic trading but when we factor in the fortunes of Classic OOH I am reminded of my school report which all too often said: 'Doing Fine But Could Do Better.'
The Congress, the first such in-person event since Dubai 2019, brought together 400 delegates from all over the world, despite Covid 19-related travel difficulties which impacted intended delegates from China in particular, stiff Canadian visa measures and storms further north in Canada which affected some flights.
Among the issues discussed in depth were programmatic, what clients want from OOH (both sessions moderated by Brendon Cook), the changing macro-media landscape where ecommerce increasingly rules, sustainability, diversity and the way digital OOH amplifies social media in real time to great effect (a full list of speakers and topics is available here with access to Congress materials for delegates and WOO members.)
The leaders of the US 'Big Three' Jeremy Male of OUTFRONT Media (alongside 'Kappy Kaplan of Kinetic) and Clear Channel's Scott Wells joined Lamar's Reilly at Congress while Anna Bager of the US OAAA described the valuable work of national associations and the work they were doing under WOO's aegis in helping recovery from the pandemic and readying OOH for the future.
There were two uplifting presentations from Dentsu International: a Keynote from Head of Gobal Solutions and Innovation Jeff Greenspoon on the macro-economic picture and Head of Amplfi Global Ben Milne on what media agency planners really want from OOH. Ocean CEO Tim Bleakley gave a rousing call to action on the true value of Out of Home.
WOO members in Ukraine joined delegates with an inspiring video, taking valuable time out to show solidarity with their industry in the midst of the conflict in their tragically war-ravaged country.
In a major industry development Gideo Adey and Neil Eddleston outlined a new set of best practice guidelines for the industry - 'realising the value of DOOH audience measurement' - a long-awaited and necessary template for a new digital-dominated world (for more details, see separate story.)
One of the main tasks of such global meetings is sharing knowledge and information and Toronto 2022 succeeded triumphantly in this, evidenced by the number of hard-worked phone cameras as delegates devoured the slides and videos generously offered by speakers.
But the overriding impression was the relief and shared emotion among speakers and delegates that the industry was finally able to reconvene and meet in person after three gruelling and arduous years dominated by the pandemic. Its effects are still with us, of course (the travel issues mentioned above, for example) but, hopefully, finally ebbing.
WOO 2023 has been scheduled for June 7-9 in Lisbon. If Toronto 2022 was a red letter day for the industry (and it was) Lisbon 2023 should be even more so.