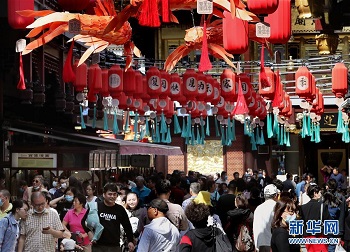 Since the 2020 China's annual Spring Festival travel rush this year, the Chinese tourism market has fallen sharply due to the Covid-19 epidemic. As the epidemic is under control, people's lives have returned to normal. Starting from October 1st, the 8-day holiday period and the depressed tourism demand for 9 months were released in one go. The tourism market gradually recovered as expected.
More than 637 million people traveled within China over the past week in celebration of the country's annual "Golden Week," the country's government said on Oct. 9th.
According to statistics from the Data Center of the Ministry of Culture and Tourism, during the 8-day National Day holiday, the country received 637 million domestic tourists, a 79.0% recovery on a comparable basis; domestic tourism revenue was 466.56 billion RMB, a 69.9% recovery on a comparable basis.
From October 1st to 8th, the national civil aviation carried a total of 13.26 million passengers, and the average daily passenger traffic returned to 91.07% of the 2019 National Day holiday
The government report shows that among the people traveling during the National Holidays, more than 60% of the "post-90s" and "post-00s" born after 1990 and 2000 are the main force in this wave of travel in China.
中国十一长假旅游回升
今年中国自2020春运以来,受到Covid-19疫情影响,旅游市场大幅下滑。随着疫情受到控制 ,人们生活恢复正常,从10月1日开始的8天连假,被压抑9个月的旅游需求在这8天内一口气释放,旅游市场如预期逐渐回温。
中国政府十月十日表示,过去一周内有超过6.37亿人在中国旅行,以庆祝该国每年的"黄金周"。根据文化和旅游部数据中心的统计,在为期八天的国庆假期中,国内接待约6.37亿国内游客,可比增长79.0%。国内旅游收入4665.6亿元,可比增长69.9%。
此外,全国民航共计运输旅客1326万人次,日均旅客运输量恢复至2019年国庆假期的91.07%。
根据政府报告显示,十一长假出游人口当中,1990年、2000年后出生的「90后」、「00后」的占比超过6成,是中国这波出游潮的主力。
Rc_10132020