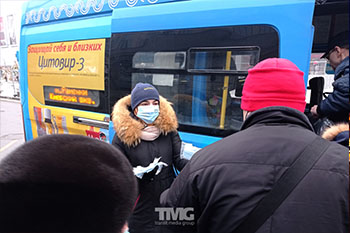 The mask regime in public transport in Russia is extended until 2022 and is monitored daily. The new campaign launched by TMG, the largest transit media operator, includes free branded mask distribution in public transport. The smart example of bringing benefit to both people and brands.
Such way of personal offline communication with the target audience during the pandemic is especially suitable for pharma companies, banks, FMCG, cosmetology and other segments with high market competition and focus on consumer loyalty.
The Masks-BTL was first implemented by TMG in partnership with ad agency ROSST for the antiviral drug "Tsitovir-3" this winter and became the key focus of the classic advertising campaign, which the customer launched on the buses of Moscow and St. Petersburg.
During the rush hours, promoters handed out free masks with the brand's logo to passengers. The audience of more than 150 buses was covered daily. The total amount of 50,000 protective masks in public transport was contributed to the passengers. Masks became useful for many of them, since it is quite easy to forget or lose your own one on the go.
"The TMG's idea to distribute masks on buses during the prime time gave us unique opportunity to be useful to people and engage a large number of our potential consumers in a personal contact with the brand, that enhances and prolongs the effect of outdoor advertising. It is important to note that in buses our communication takes place in a complete absence of a competitive environment, which cannot be achieved online or at points of sale", - comments Ekaterina Tretyakova, a customer representative.
---
Interested in becoming a member?
Fill in your details and submit the form, we will contact you shortly about membership...
---
Subscribe to our weekly OOH newsletter
LATEST INDUSTRY NEWS: focusing on the top OOH stories of the week from around the world.