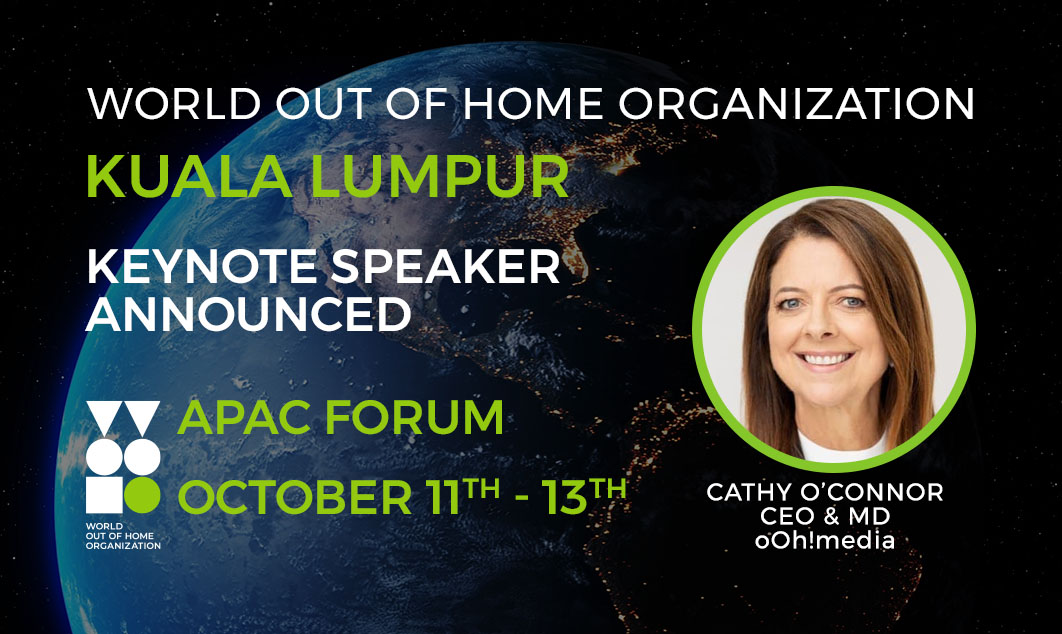 Cathy O'Connor, CEO of oOh!media, named as a keynote speaker at WOO's October APAC Forum
One of Australia's leading media executives Cathy O'Connor is to be a keynote speaker at the World Out of Home Organization's APAC Forum in Kuala Lumpur from October 11-13. The in-person Forum will be held at the InterContinental hotel. O'Connor will open the second day of the Forum, the focus of which will be the 'Science of Out of Home' covering key subjects of including Audience Measurement and the importance of data, and the increasing impact of the range of Adtech developments on the sector.
O'Connor succeeded company founder Brendon Cook as CEO and Managing Director of oOh!media in 2020. Before that she was head of Nova Entertainment for 12 years after beginning her career in radio sales.
Now O'Connor is leading the strategic evolution of oOh!'s business model at a time of rapid change, capitalising on the company's significant investments in data, audience insights, content and creative to target sustained growth.
She is also a Governor of the Cerebral Palsy Alliance Research Foundation, Chair of the Sony Foundation, and previously served on the Commercial Radio Australia Board. Her many achievements include a Telstra NSW Business Women's Award for the Private Sector, a Centenary Medal for Service to Australian Society in Business Leadership, and induction into the Commercial Radio Hall of Fame. O'Connor has also just taken the number one position in the B&T Women in Media Power List 2022.
A graduate of the Institute of Company Directors (GAICD), she also holds a BA in Communications from University of Technology Sydney.
Predecessor Brendon Cook was a long-time WOO board member and the recipient of WOO's Lifetime Achievement Award at this year's Global Congress in Toronto.
WOO President Tom Goddard says: "We're delighted to welcome Cathy to our APAC Forum in October. She is a key member of the generation of dynamic media executives who are transforming not just Out of Home but the wider media landscape.
"It's especially pleasing to welcome her as it builds on the long relationship WOO, and before that FEPE international, has had with oOh!media."
Click here for a Forum overview.
CLICK HERE TO REGISTER
More details of the Speaker programme will follow shortly.
---
Interested in becoming a member?
Fill in your details and submit the form, we will contact you shortly about membership...
---
Subscribe to our weekly OOH newsletter
LATEST INDUSTRY NEWS: focusing on the top OOH stories of the week from around the world.