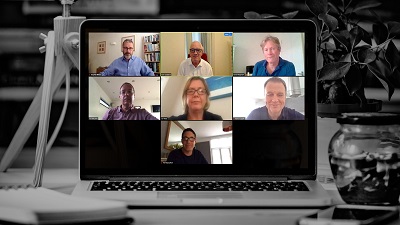 UK Out of Home media owner Ocean Outdoor gathered together the leaders of the UK's biggest OOH specialist agencies for a webinar to discuss their experience of the crisis and plans for recovery. The webinar was hosted by Ocean Chairman and World Out of Home Organization President Tom Goddard, with more than 400 guests tuning in.
Present were Alistair MacCallum of Kinetic, Chris Marjoram of Rapport, Talon Global CEO Barry Cupples and Posterscope Global President Stephen Whyte. They were joined by Gill Reid, Board Member Out of Home at the UK's largest media agency MediaCom and Ocean Outdoor CEO Tim Bleakley.
All agreed that enforced working from home had had its benefits, not least in creating more opportunities to communicate one-to-one with staff, although the resumption of business as usual - mostly from the office - was keenly anticipated. Younger employees in particular were keen to resume work as normal.
Recovery, they thought, posed a combination of challenges and opportunities. Talon's Cupples noted there was a need to operate in what he called a "data economy" rather than a "guess economy," with even more data to persuade clients of the impact of OOH. This was echoed by MediaCom's Reid. All agreed that the medium as a whole needs to become even more creative and flexible to respond rapidly to client short-term needs.
But the big opportunity for OOH lay in its undeniable power and reach, instanced by the many high profile public service and business assistance campaigns in the crisis. Business assistance campaigns, especially for small and medium-sized enterprises (SMEs) had brought many new advertisers to the medium.
Advertisers coming back into the market in a major way were a real opportunity for OOH as other media struggled. TV, for example, is wrestling with production difficulties because of distancing measures and a shortage of available content. Out of Home's greater ability to converge with social media via mobile is a particular strength.
Rapport's Marjoram noted that specialist agencies needed the look at income streams other than commission as they helped recovering clients with a wider range of business issues.
How quickly will recovery come? Gill Reid reported that some OOH owners in France and Germany were already fully sold as those countries emerge from lockdown. Car advertisers, faced with huge stocks of unsold vehicles, were particularly prominent.
Goddard said: "We believe the crisis has brought an enhanced spirit of collaboration between all the players in Out of Home and this meeting - which may never have happened without the problems of Covid-19 - is a resounding example of that.
"Now our task is to work together to ensure that Out of Home emerges even stronger by taking our powerful message to advertisers and agencies in new and compelling ways."