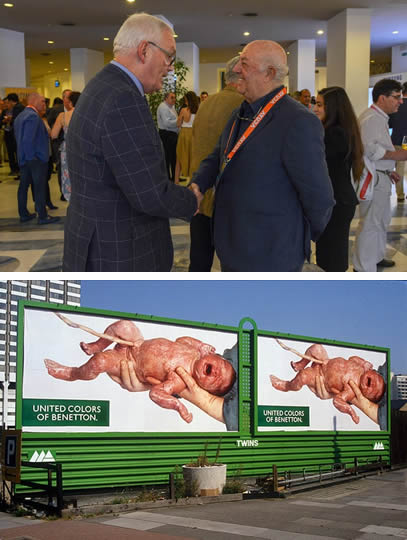 We were saddened this week to learn of the death of one of the leading lights of the Italian advertising industry, Pierpaolo Micheletti (pictured with WOO President, Tom Goddard at the Sorrento Congress, 2018).
In the words of Pierpaolo's daughter Daniela,
Pierpaolo Micheletti, founder of Creative Media the agency based in Milan, a leading figure in the Italian and international media advertising world, left us last Friday at the age of 82.
Pierpaolo started his business in the late 1980s and since then, for more than 25 years, he has been in charge the media communication for the Benetton Group, in professional partnership with Oliviero Toscani; his career also counts significant professional experiences with major brands such as Prénatal, Dolce&Gabbana, Replay, Cosmoprof Worldwide, Ovs, Upim, Coin, Mcs, Bata...
Luciano Benetton's trust in his work along with his international experience have made him one of the most brilliant and skilled OOH specialists: his competence in complex markets like Russia, Eastern Europe, the US, made his opinion beyond compare for clients approaching media campaigns in those areas.
Well-known and respected in the Italian entrepreneurial élite, Pierpaolo has always been an extremely reserved person; he was a convinced theorist of "small is beautiful" and so was his boutique agency Creative Media, a safe landing for many large advertising companies seeking for dedicated, tailor made and unparalleled service.
Our world has lost a strong and tenacious guide, a very skilled teacher, a precursor of the international OOH market and an ever-present reference point in our lives.
Thank you Pierpaolo
Eric Newnham, Founder of Talon Outdoor also writes,
I first met Pierpaolo in the early Eighties when Portland had a partner relationship with Creative Media to manage campaigns emanating from Italy, most notably for Benetton (see photo). At the time the creative work by Toscani was very controversial, and often no sooner had we posted a campaign then it had to be blanked out, but not before being picked up by TV and Press thus achieving mass media free coverage!

Throughout my career Pierpaolo and his family have been a constant, working with Poster Publicity and now Talon. Pierpaolo was incredibly knowledgeable about OOH and the ownership structures over all of Europe and beyond. With Daniela the pair used to spend weeks inspecting campaigns across Russia/Eastern Europe and Western Europe. It was an honour for me to have Luigi ( Pierpaolo's son who tragically died in a car accident a few years ago) work with us at Poster Publicity in London as did more recently Luigi's son at Talon.

It has been an immense pleasure to work with Pierpaolo and his family; he always conducted himself with the utmost integrity and his knowledge was second to none.

Pierpaolo - a great OOH statesman and character you will be sorely missed.

John Ellery, Executive Director of WOO adds

Pierpaolo was always at the top of his game. Consistent reliable and honourable. It was always a pleasure to meet up with him at industry functions and he always had a subject to discuss.
He will be sadly missed.