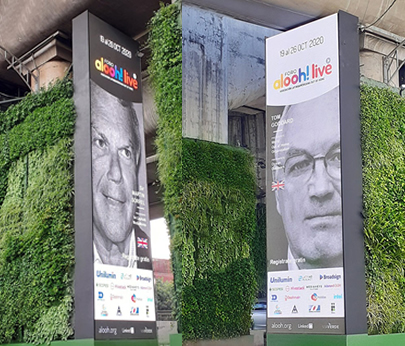 Sir Martin Sorrell was one of the star keynotes at ALOOH this week with the S4 Capital founder and executive chairman giving a masterly tour d'horizon of an increasingly digital advertising world in a conversation with World Out of Home Organization President Tom Goddard.
The eight day 84 hour online event's main sponsor was China's Unilumin Group, joined by Broadsign, Hivestack, Daktronics, Doohmain, Admobilize, AdsMovil OOH, Scopesi, Mediakeys, LatinAd / Publinet and Intel. Other speakers included Outfront Media's Jeremy Male and the OAAA's Anna Bager, as well as Antonio Vincenti from Pikasso and Noomi Mehta from Selvel 1. All are current WOO Board Members. There were also representatives from a number of major advertisers and agencies.
Before starting S4 Capital, now a $1bn company, Sir Martin was the founder and long-serving CEO of WPP, the world's biggest advertising group. At WPP he formed specialist Out of Home media agency Kinetic, now a major force for a multitude of clients, inside and outside WPP.
Sir Martin emphasised his long-term commitment and affection for Latin America, specifically praising its creative and technological abilities. He instanced WPP's investment in the region under his regime in companies like ad software company Globant, since sold. He did however stress the danger in treating Latin America as a single homogeneous market as many people often do. Strong local management that understands the detail will win out in the end.
On Out of Home specifically, Sir Martin stressed the requirement to adapt to a digital world. TV and Out of Home, he said, had always been the traditional brand building ad media but, with digital now accounting for 50% of the world's global adspend and forecast to rise higher, these media needed to adapt. Digital-only media would become better at brand-building thereby offering a greater challenge to classic Out of Home advertising in particular. Sir Martin believed that the Covid pandemic had only served to increase the pace of this change. Digital Out of home needed to continue adapt to the challenges of this changed world, using data to drive content and continue to demonstrate its ability to react quickly.
Sir Martin gave a glimpse of what's possible for Out of Home by looking back to a lift journey in Shanghai (on his way to dinner) when he had been bombarded digitally with alternative venues. A new and, maybe, slightly frightening world.
On prospects he was decidedly bullish about the prospect for advertising in 2021. Events like the delayed Olympics in Japan on top of a gradual recovery from Covid-19 - his guess is a vaccine by the second quarter of next year - should lead to a significant bounce back.
Sir Martin's interviewer WOO President Tom Goddard says: "Sir Martin Sorrell is one of the architects of the modern advertising and media world and it's a great coup for ALOOH to secure him as a speaker at this wonderful event.
"But Sir Martin, as we know, is never one to rest on his laurels and now he's one of the pioneers of a new, digitally-dominated advertising world: not just through the achievements of S4 Capital but his unparalleled access to senior business leaders.
"It was inspiring to hear him at ALOOH and a reminder, even in these difficult times, of the great things that can be achieved by a combination of vision and tenacity."
We will be publishing a recording of the full interview and other highlights from the Congress in future newsletters