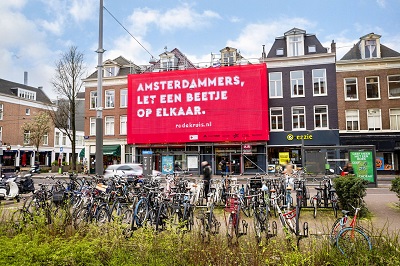 The Corona virus is gripping the country, along with the rest of the world on a huge scale. Dotted corona maps and charts show an increasing risk of contamination every day.
However, Dutch companies say it's time for something positive. blowUP media Benelux, Natwerk, BIG Impact and Maxtension have joined forces through a large format Out of Home campaign, offered to The Red Cross Netherlands (Rode Kruis Nederland). On the Ferdinand Bolstraat near the Marie Heinekenplein in Amsterdam, a 100sqm Giant Poster has been installed to reinforce Dutch Prime Minister Rutte's appeal to look after each other.
The appeal – made up of dots – reads "Citizens from Amsterdam, please look after each other", and includes a link to the Red Cross Netherlands website. In addition to the Giant Poster, digital screens in various cities in the Netherlands and Belgium are targeting audiences in Amsterdam, Rotterdam, Eindhoven, Antwerp and Ghent, encouraging people to look out for each other. The Netherlands are asking for support for the Red Cross, and in Belgian cities, the campaign includes the hashtag #vlaanderenhelpt. In every city, the creative is designed to align with its' own city colour.
Ernst Vos (CCO of the blowUP media Group) & Reinier Steures (CEO Natwerk) explain the reason for the campaign, and the meaning behind it; "Challenges are emerging everywhere in society. The creative industry in particular can now prove itself by helping where possible with inventive ideas. We wanted to encourage togetherness when you are together less. Thanks to their exceptionally good work and their network of civilian aid workers Ready2Help, The Red Cross has underlined how valuable that is for many years. The Red Cross was immediately positive about the initiative and together we hope to give many people a "positive vibe" in this turbulent time. We also hope that many new volunteers will register for the Red Cross via www.ready2help.nl."
Marieke van Schaik, CEO of the Dutch Red Cross says, "We were immediately enthusiastic about this campaign. Every day we notice how many people really want to help others in this difficult period. They can approach us via our voluntary citizen aid network Ready2Help, but of course own initiative is also fantastic. From a phone call to your single neighbour, to shopping for someone who just needs it."