WOO NEWS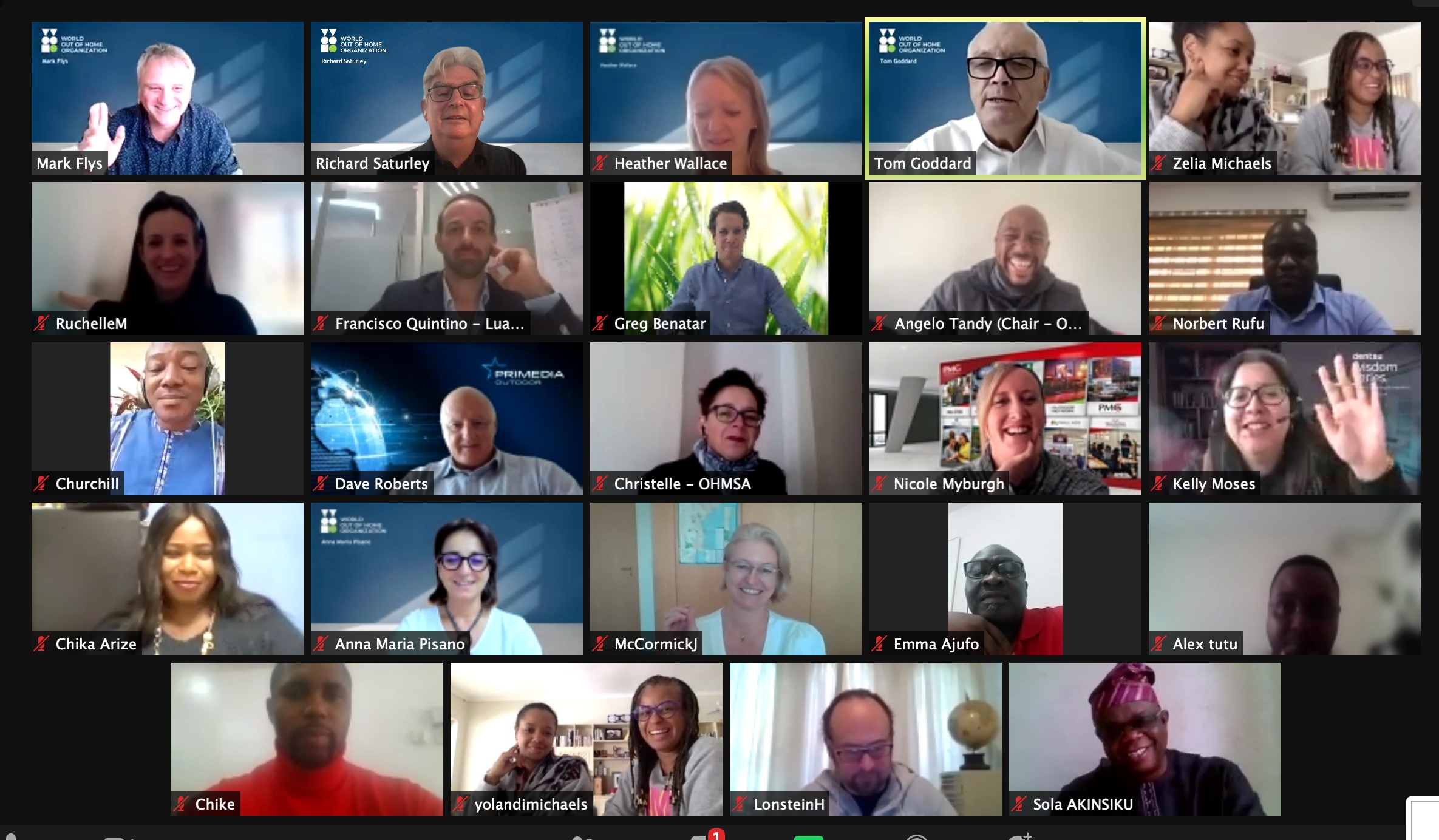 World Out of Home Organization steps up Africa initiatives
The World Out of Home Organization has held its first Africa video call, bringing together nearly 30 attendees from sub-Saharan Africa including South Africa, Ghana, Angola, Nigeria, and Mozambique plus the Nigerian and South African Out of Home Trade Associations. Global players JC Decaux and Dentsu were also represented.
Read More »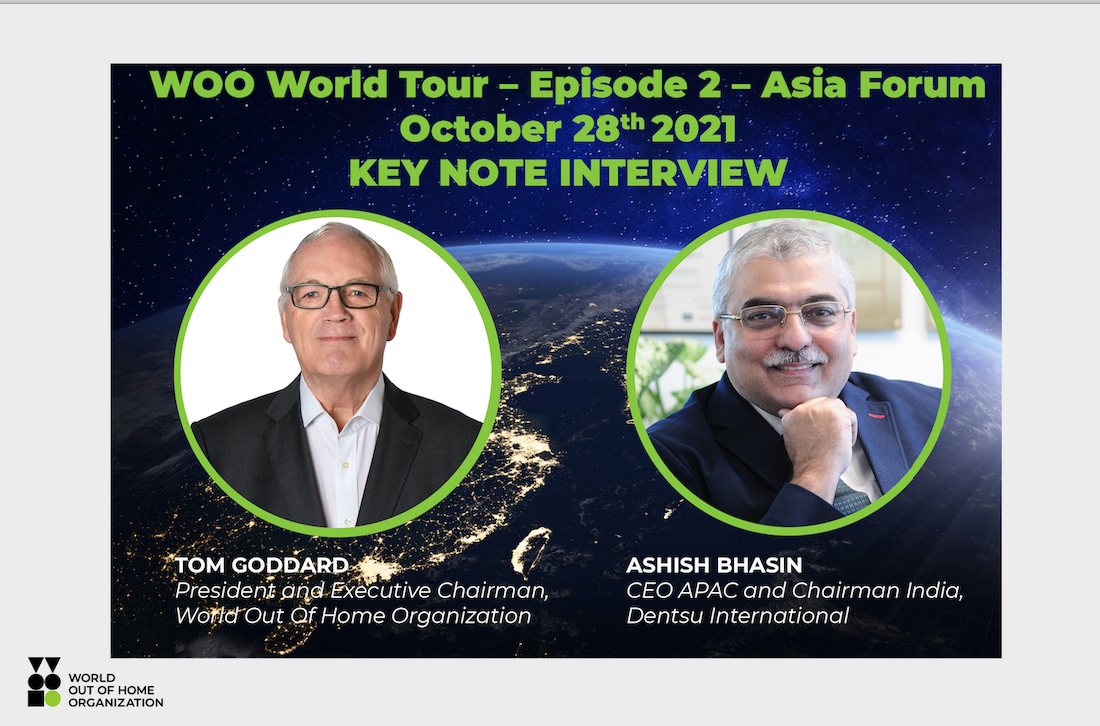 Dentsu International leader Ashish Bhasin to headline first WOO Asia Forum on October 28th
Dentsu International CEO APAC and Chairman India, Ashish Bhasin will open proceedings of the first World Out of Home Organization Asia Forum with an in-depth interview with WOO President Tom Goddard. This virtual event will be held on October 28.
Read More »
COMPANY NEWS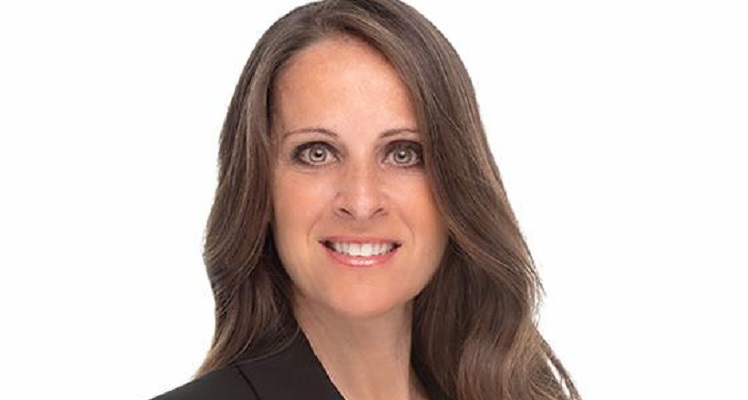 Radigan To Become OUTFRONT SVP Analytics
OUTFRONT Media Inc. has announced that Christina Radigan will be joining the company on September 7, 2021 as Senior Vice President of Strategic Research, Insights, Analytics. This new role aligns with the company's heightened focus on audience-based selling as the out of home (OOH) sector, and OUTFRONT specifically, has increased access to refined data and audience delivery.
Read More »
William Eccleshare quits as Clear Channel CEO after 'fantastic run'
William Eccleshare is to step down as global chief executive of Clear Channel after 12 years during which the outdoor media owner has moved from a traditional poster company to a digital-focused business. Eccleshare, who left the agency sector after stints at BBDO, Y&R and JWT to join Clear Channel as international CEO in September 2009, will hand over to Scott Wells, the chief executive of the Americas division, in January 2022.
Read More »
Miroma SET Consolidates Global Outdoor Media Into Enhance Outdoor
Miroma SET, the global audience and customer amplification company, is launching a global OOH specialist, Enhance Outdoor. Consolidating OOH into the new company, Enhance will work with sister agencies Dewynters, Wake the Bear and Sold Out in the UK and SpotCo in the US.
Read More »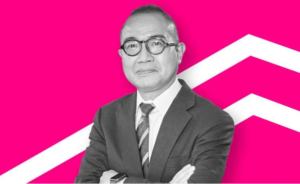 Hivestack Names Ichiro Jinnai Japan President
Hivestack has announced the appointment of Ichiro Jinnai as President, Hivestack Japan. Jinnai will be responsible for driving the regional strategy, direction and expansion of the Hivestack platform in Japan.
Read More »
OPINION
Digital Billboards vs Static Billboards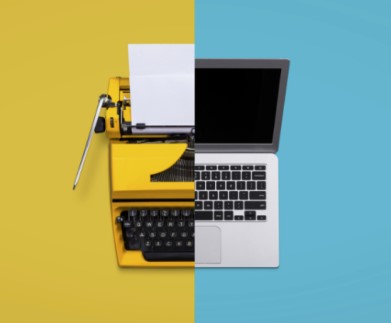 Who Else Wants to Have Their Cake and Eat It Too?
If you're anything like me, you find creative ways to have your cake and eat it too.
So, when a client asked about the differences between buying static, traditional billboards versus digital billboards, it was obvious that it's a question others likely have, and maybe even one you've considered yourself.
Here's the down and dirty answer.
Read More »
'The New Normal enhances OOH relevancy'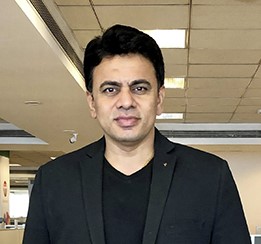 Haresh Nayak, Group MD, Posterscope South Asia & President, Posterscope APAC shares his perspectives on the New Normal that is influencing OOH business, increasing role of technology, and prospects for programmatic OOH/DOOH, in an interview with Rajiv Raghunath.
Read More »
What's Next for OOH Advertising for the Remainder of 2021
It's safe to say the past year caused an upheaval of mass proportions in the world of advertising, which has largely continued through the first half of 2021. Not only did staying at home and increased screen time create a glut of social and online impressions, but many advertisers (e.g. travel, entertainment, etc.) also throttled their ad spend.
Read More »
DATA AND MEASUREMENT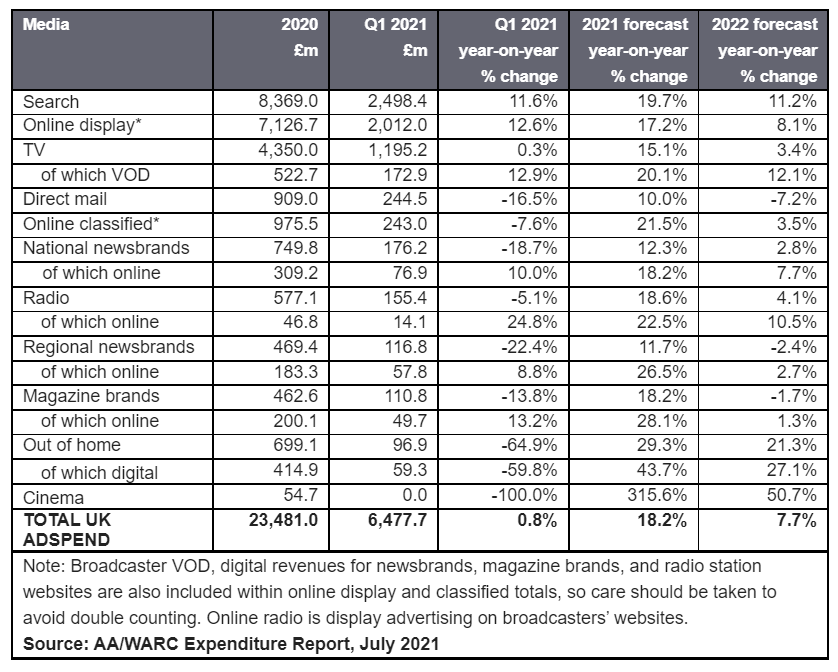 AA/Warc: UK ad spend to grow at fastest ever recorded rate in 2021
Shaking off the effects of the pandemic and countless lockdowns, the UK is set to see ad spend grow 18.2% to £27.7bn in 2021, according to the latest report from the Advertising Association and Warc. Never before has such a dramatic surge been recorded by the organization. The Drum explores the findings.
Read More »
COVID-19 Insights Report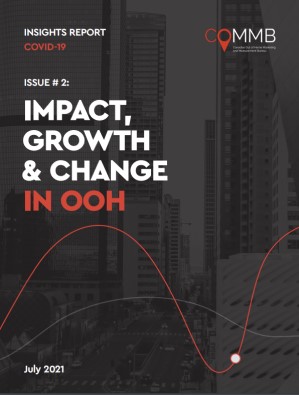 Here is COMMB's 2nd monthly resource for consumer travel patterns, the COVID-19 Insights Report. This resource for our members and the OOH industry contains compelling insights across 17+ major and regional markets, granular observations between product groups, road types and custom geographic areas.
Read More »
How to combine OOH and Mobile to supercharge campaigns and get better results
The complementary relationship between OOH and mobile has been accelerated during the pandemic, giving brands access to more creative and targeted opportunities than ever before. Kinetic's Chief Client Officer Nicole Lonsdale takes a look.
Read More »
COUNTRY NEWS
2021 China Outdoor Advertising Forum is held for the first time in Xining, Qinghai, on Jul. 28, 2021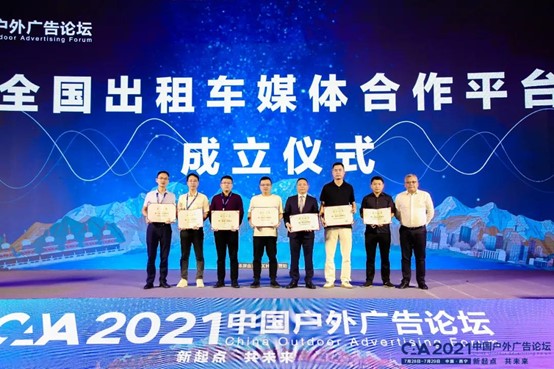 This outdoor advertising forum was held in Xining, Qinghai, with the theme of "A New Starting Point, A Future Together." The conference focuses on the new trends in China's OOH media, new consumption patterns, digital empowerment of China's OOH media, the brand's new demand for OOH, and other topics.
Read More »
Africa: The future is DOOH: The renaissance of the OOH industry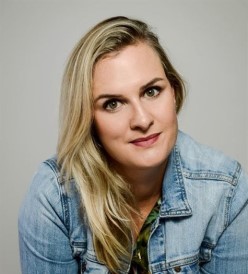 The numbers don't lie. According to a December 2020 report by global media investment and intelligence company Magna, DOOH was found to be making the loudest boom in the digital media explosion, with an expected increase of 14% compound annual growth rate (CAGR) between 2022–2025; pegging it far ahead of the anticipated growth of other mediums such mobile, video and social media. This juxtaposes the expected declines in competitor mediums, such as radio, TV, newspaper and magazines.
Read More »
India: Bengaluru OOH Association takes strong stance to ensure strictest self-regulation
The new Bruhat Bengaluru Mahanagara Palike Advertisement Rules, 2021 call for authorised outdoor media falling within the jurisdiction of BBMP to be listed on the urban local body's website; the Outdoor Advertising Association of Bangalore also plans to feature that list on its own website.
Read More »
CAMPAIGNS
New OOH Format Proven Effective in Driving Website Traffic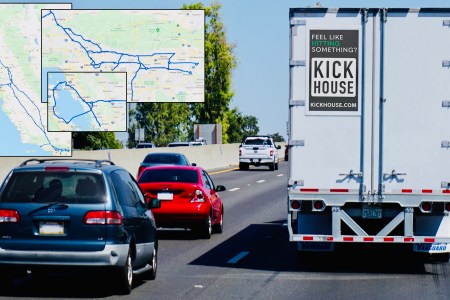 Sacramento, CA – KickHouse, a new kickboxing studio concept with seven locations spread across California wanted to increase its brand visibility and gain new customer interest. As they continue to grow and add franchises, they were particularly intrigued by the opportunity to measure interest outside their current locations.
Read More »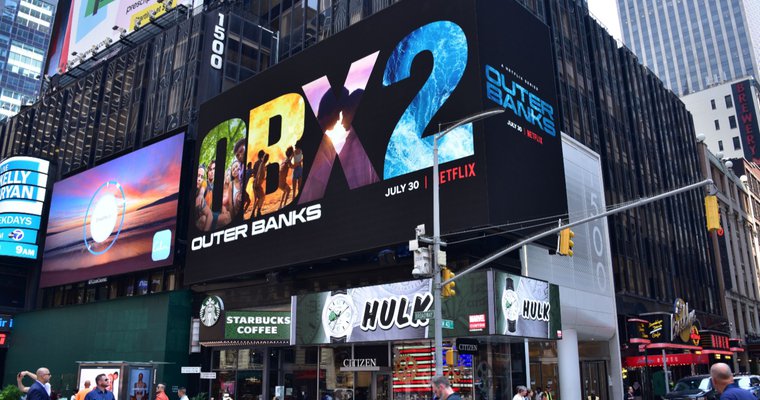 Clear Channel Outdoor DOOH promotes Netflix show in Times Square
Netflix, a streaming service offering television shows, movies and documentaries, is making a splash in New York's Times Square on Friday for its "Outer Banks" Season 2 premiere with help from Clear Channel Outdoor, an outdoor advertising company, with a DOOH campaign sure to draw attention.
Read More »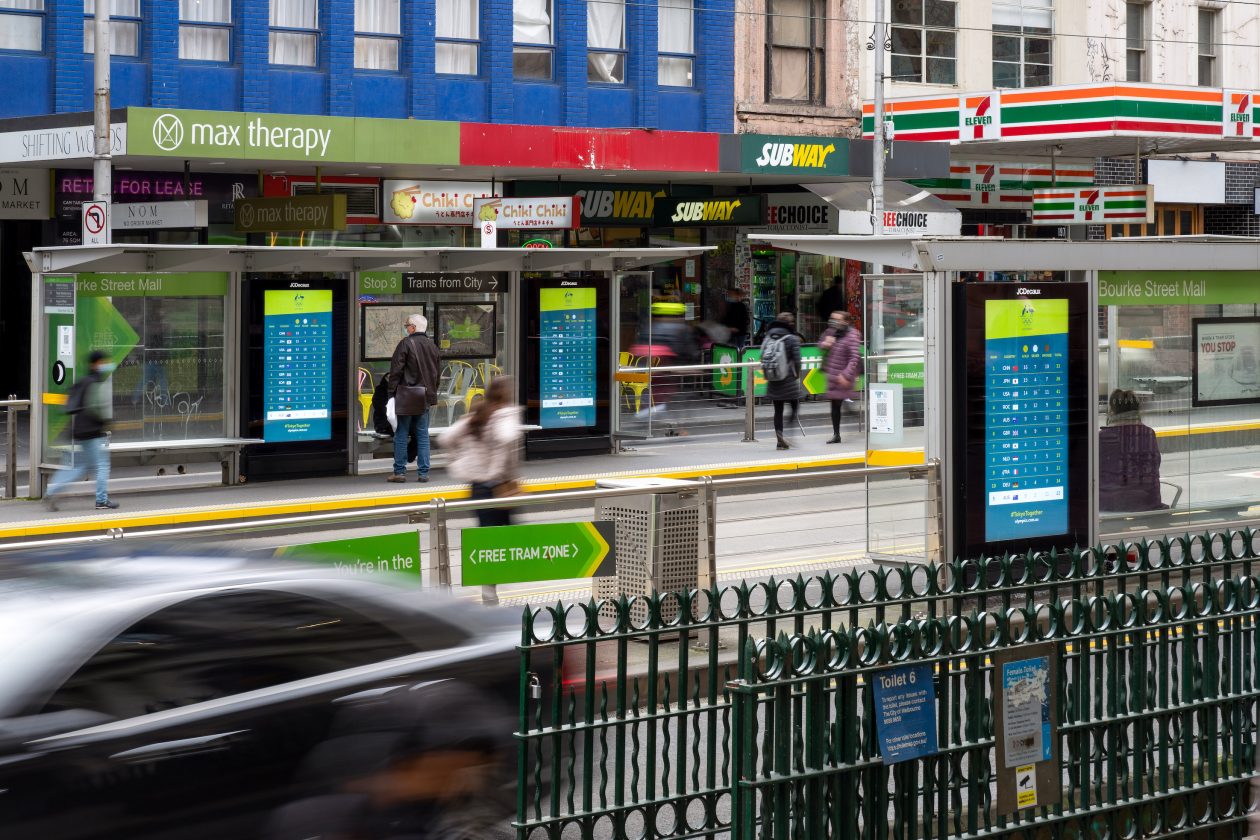 JCDecaux Brings Tokyo Olympics To Aussie Streets With Medal Tally
JCDecaux is showcasing the results of the Tokyo 2020 Olympics on the streets across Australia with a dynamic campaign that updates medal tally results across its digital network.
Read More »
Outdoor media's $1 million missing persons campaign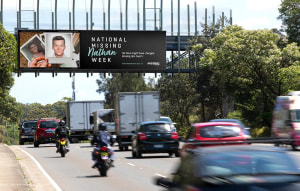 Out-of-home signs across Australia will feature and profile missing people as part of National Missing Persons Week (NMPW) to August 7.
The campaign is to help raise awareness of long-term missing Australians and the impact this has on their families.
Read More »
EVENTS
DPAA Video Everywhere Speakers list announced
The DPAA today announced initial speakers for its in-person Video Everywhere Summit on October 12 at Chelsea Piers on the Hudson River in New York City.
Read More »
WOO GLOBAL DATABASE
The WOO global database holds all our information gathered on research, legislation, case studies and general industry data, organised by country. All documents are available for members to download in pdf format.