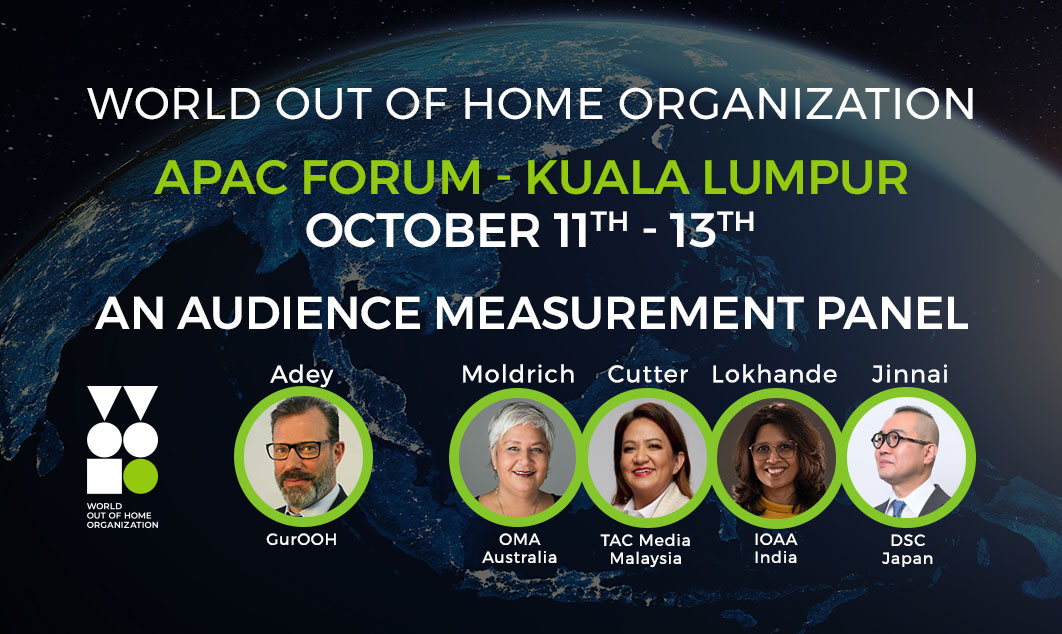 Audience Measurement takes centre stage at WOO APAC Forum
Leading media figures from the APAC region will join World Out of Home Audience Measurement consultant Gideon Adey from the Gurooh consultancy on stage on Day 2 at WOO's APAC Forum in Kuala Lumpur on October 11-13.
Audience Measurement is arguably the most pressing issue for any medium in the data-driven digital age and the global Out of Home industry has made important strides recently under WOO's auspices with important updates to governance and practice.
Joining Adey in Kuala Lumpur to discuss the governance, funding and management of large scale Audience Measurement projects will be Charmaine Moldrich from the Outdoor Media Association (OMA) Australia, Rachana Lockhande of the Indian Outdoor Advertising Association (IOAA), Angie Cutter of digital media owner TAC Media in Malaysia and Ichiro T. Jinnai, President of Hivestack but representing DSC from Japan.
Adey says: "Moving Audience Measurement forwards in a meaningful way needs a combined effort from both trade associations and media owners plus input from those with access to the latest measurement technology.
"I'm delighted to say that all these vital elements will be strongly represented by experts from the region in the Audience Measurement Panel at the APAC Forum. We can look forward to moving the Audience Measurement debate forward in a way that benefits all sides of the industry in APAC."
Click here for a Forum overview.
CLICK HERE TO REGISTER
More details of the Speaker programme will follow shortly.