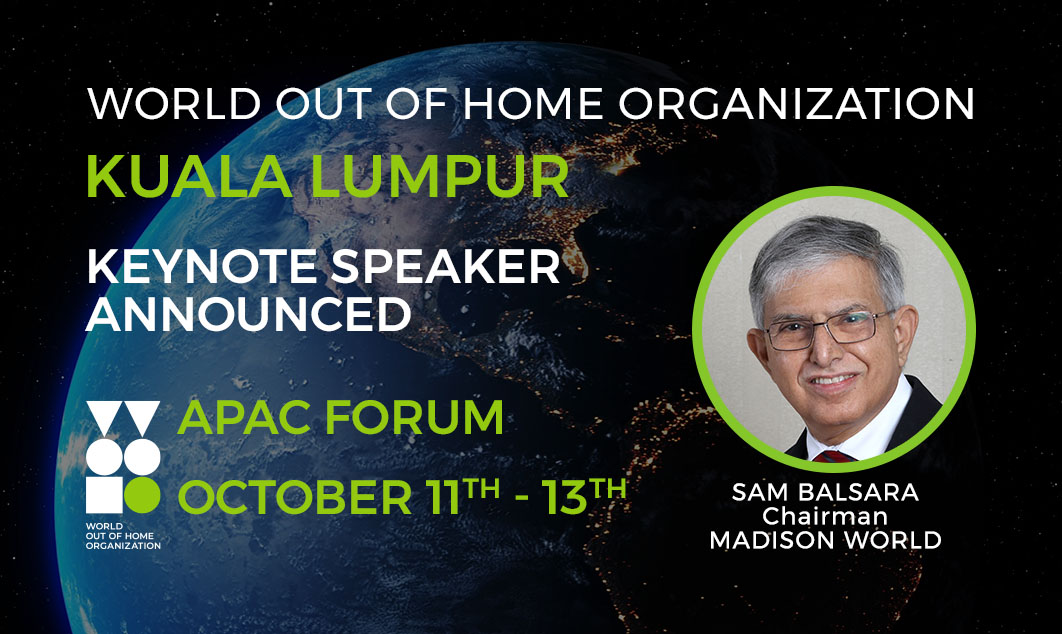 WOO names Madison World's Sam Balsara as the first keynote speaker for October APAC Forum
Madison World chairman Sam Balsara has been named as the first keynote speaker for the World Out of home Organization's first in-person APAC Forum to be held at the Intercontinental hotel, Kuala Lumpur from October 11-13.
Madison World is the largest Indian-owned communications company employing more than 1,000 communication experts serving around 500 Advertisers. Madison Media is the largest Independent media agency by share and 5th largest independent media agency by size globally according to RECMA.
Balsara, an industry veteran with nearly 50 years' experience, has served as President or Chairman of a number of industry bodies and been voted India's most influential media person 11 times by The Economic Times Brand Equity Ad Agency Reckoner. He is also the recipient of the Advertising Agencies Association of India's Lifetime Achievement Award.
WOO President Tom Goddard says: "We are immensely honoured to welcome Sam as a keynote speaker at our APAC Forum. He is a legend in advertising and media in India and the wider Asian market and will help to ensure that the APAC Forum shines the most revealing light on the status and prospects for Out of Home in this hugely important region."
Click here for a Forum overview.
CLICK HERE TO REGISTRATION
Details of the Speaker programme will follow shortly.
---
Interested in becoming a member?
Fill in your details and submit the form, we will contact you shortly about membership...
---
Subscribe to our weekly OOH newsletter
LATEST INDUSTRY NEWS: focusing on the top OOH stories of the week from around the world.