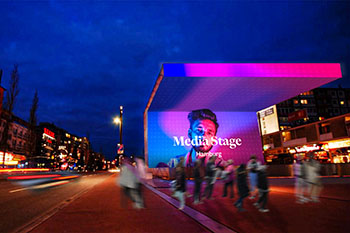 blowUP media, a member of the Ströer Group, is thrilled to expand its growing DOOH portfolio with another premium product. With the launch of the Media Stage, the pioneer of classic Giant Posters can offer their clients a 138 m² digital branding opportunity within the most famous entertainment areas in Germany. With this exciting new launch, blowUP media provides a new full motion platform for even more flexibility and creative standout advertising.

The impressive Media Stage combines a unique lighting concept with state-of-the-art technology. The combination of a high-resolution screen and an atmospheric ambient light ceiling and top bracket creates a new level of brand experience in an iconic location.

The Reeperbahn is not only one of the main direct routes to the city centre, it´s also the most vibrant and trendy street in Hamburg. With countless clubs and bars, theatres, and live music venues situated side by side on this buzzing street, the Reeperbahn attracts a young nightlife audience of around 35 million visitors per year.

With this acquisition blowUP media continues to follow their strategy of consistent growth, developing innovative approaches to connect brands with their target group in a flexible and impactful way.

Katrin A. Robertson, CEO of blowUP media: "The acquisition of new premium DOOH products in the top cities of the country is strategically very important for our organic growth in addition to our landmark Giant Posters. With the launch of the Media Stage, we are incredibly proud to be able to provide a new innovative and creative platform for brands to contribute to the customer journey with attention-grabbing full motion content. The unique lighting concept and premium technology at this exciting location creates an unforgettable brand experience with maximum emotional impact."

---
Subscribe to our weekly OOH newsletter
LATEST INDUSTRY NEWS: focusing on the top OOH stories of the week from around the world.