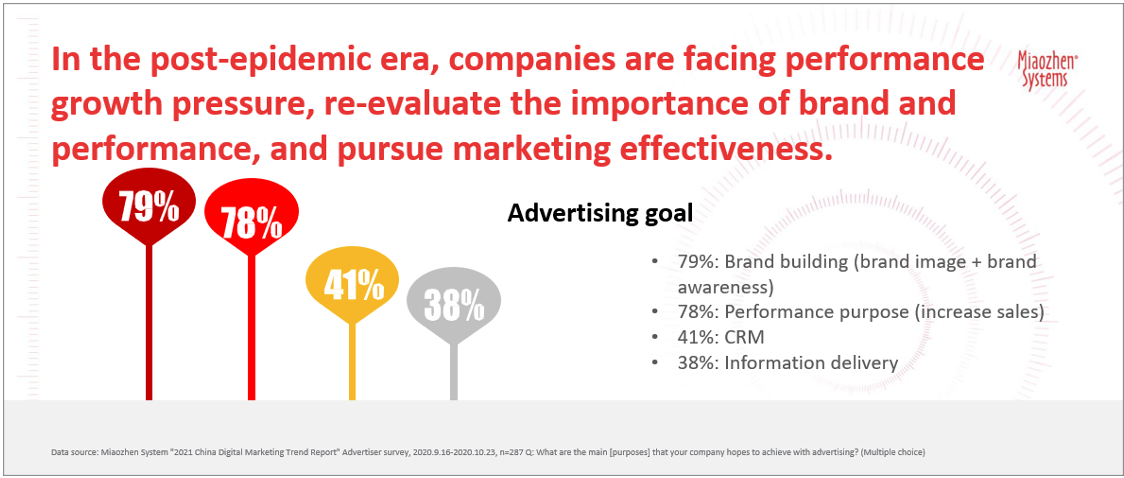 In the post-epidemic era, companies are facing performance growth pressure, re-evaluate the importance of brand and performance, and pursue marketing effectiveness. According to the survey of advertisers in the "2021 China Digital Marketing Trend Report" by Miaozhen System, the advertising target Brand building is 79%, and Performance purpose is 78 %, CRM and information delivery are 41% and 38%, respectively.
Scientific data has been verified the brand investment strategy can drive the long-term enterprise growth. ROI Festival-winning companies in the Chinese market focus on high-quality creative and marketing brand investment. The long-term share price growth advantage of these companies is significantly better than that of ordinary companies in the market.
In additional to this, brand advertising investment can also help companies' short-term effects. Taking K12 online education key players as an example. Ape Coaching and Zhoyebang, through online and offline brand investment, drove the rapid growth of users in 2020.
However, as stated in the book "How Brands Grow" written by Professor Byron Sharp, corporate sales contribution is mainly due to more people buying. This classic theory is still applicable. In the study 《media in focus ——marketing effectiveness in the digital era》published by IPA data in 2017, advertising reach strategy can achieve higher market growth and increase profits than only targeting existing users (loyalty strategy). In the digital field, reach is king. The source of enterprise growth is still contributed by "more people buy."
Brand marketing challenge
Digital traffic gradually disappeared and delivers insufficient marketing traffic.
Media fragmentation enhances the negative feeling of advertising and weakens the ad effect It is difficult to improve ROI and measure the effect.
It is difficult to improve ROI and measure the effect.
中国疫情后的品牌广告策略
后疫情时代企业面临增长压力,品效关系重新结构,追求效果成为主要趋势,根据秒针系统《2021中国数字营销趋势报告》广告主调研显示,广告投放目标Brand building为79%,效果目标(提升销量)为78%,消费者关系维护与信息传达分别为41%与38%。
科学数据证明品牌投资战略能驱动企业长期增长。例如金投赏获奖企业为中国市场中以优质创意和营销品牌投资为主的企业,这些企业的长期股价增长优势明显优于市场一般企业
此外,品牌广告投资也能帮助企业短期效果。K12在线教育主要品牌如猿辅导、作业帮透过线上与线下品牌投资,2020年驱动用户量即获得快速的增长。
然而,如同Byron Sharp 教授所写的《How Brands Grow》这本书所言,发现企业销量贡献主要源于更多人购买。这一经典理论仍然适用,IPA data 2017年《Media in Focus ——Marketing effectiveness in the digital era》研究中,广告reach策略相比只针对现有用户(忠诚策略)更能获得高市场增长和 增加利润。数字化领域中,reach is king。企业增长来源仍是由"更多人购买"贡献。

针对品牌广告主与营销人员常面临的品牌营销痛点,秒针归纳出以下三大痛点:
 数字流量红利消失,营销流量不足
 媒介碎片化,广告反感度提升,效果减弱
 ROI难提升,效果难测量

---
Interested in becoming a member?
Fill in your details and submit the form, we will contact you shortly about membership...
---
Subscribe to our weekly OOH newsletter
LATEST INDUSTRY NEWS: focusing on the top OOH stories of the week from around the world.