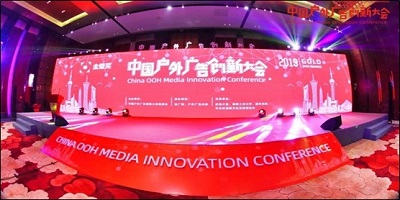 World's 2nd largest OOH market, China's OOH supply is fragmented with over 100,000 companies. The vast territory makes cross-market business development relatively difficult. National forum activities have become a communication platform for outdoor practitioners. The quarantine measures of the epidemic situation not only caused a sudden drop in outdoor traffic, the OOH advertising was severely affected, and the annual industry peer events also stopped.
There are currently three major outdoor forum activities in China. The 17th "China OOH Communication Conference" hosted by Asian Outdoor Magazine is normally scheduled in May. The "China OOH Forum" promoted by the China Advertising Association used to be held in Qinhuangdao in August; and usually in the third quarter, the "China OOH Innovation Conference", created by the ZhaoGuangWan/ OOH Insight Reference. They provide a communication platform for meeting OOH friends, exchanging experiences, and also exhibition of equipment/technology, and awards. As with major events around the world, the first half of the year was completely halted due to the epidemic.
After the epidemic gradually stabilized and controlled, in order to boost the sluggish business climate and accelerate market recovery, the three major outdoor forum events in China announced the latest event reports.
- "China Outdoor Communication Conference": 7/29-31 was held in Jinan, Shandong;
- "China Outdoor Advertising Forum": 8/20-21 held in Taiyuan, Shanxi;
- "China Outdoor Advertising Innovation Conference": 9/16-18 held in Changsha, Hunan.
The exchanges and seminars that have been staged in succession are expected to inject vitality and business opportunities into the OOH industry.
中国户外广告3个主要论坛活动宣布7-9月连番登场,显示疫后促进市场回复的力度。
中国是户外媒体世界第二大市场,拥有超过10万家从业公司。幅员的广阔让跨市场的业务推展变得相对困难。这些年发展下,全国性的论坛活动已是户外从业者的交流平台。疫情的隔离措施不止让活动人流骤减,户外广告投放严重收到影响,年度同业交流机会也停止。
目前中国有三个主要的户外论坛活动。迈入第17届由亚洲户外杂志主办的「中国户外传播大会」历年固定在5月举办;由中国广告协会主办的「中国户外广告论坛」过往则选择8月在秦皇岛举办;以及通常在3季度由找广网/户外广告内参主推的「中国户外广告创新大会」,提供媒体同业交流、设备技术展示、颁奖等宣传交流平台。和全球的大活动一样,上半年因疫情全部停顿。
在疫情逐渐稳定控制后,为提振低迷的业务景气下,加速市场恢复,中国3个主要户外论坛活动都宣布最新的活动举报消息。
- 「中国户外传播大会」:7/29-31在山东济南举行;
- 「中国户外广告论坛」:8/20-21在山西太原举办;
- 「中国户外广告创新大会」:9/16-18在湖南长沙举办。
连番登场的交流和研讨,期望为户外注入生气与商机。