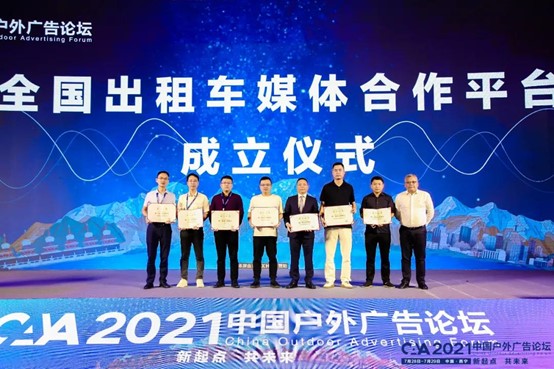 This outdoor advertising forum was held in Xining, Qinghai, with the theme of "A New Starting Point, A Future Together." The conference focuses on the new trends in China's OOH media, new consumption patterns, digital empowerment of China's OOH media, the brand's new demand for OOH, and other topics.
In his keynote speech, Zhang Guohua, President of China Advertising Association, said that China's outdoor advertising volume ranks No. 2 globally, reaching RMB 879 billion in 2019, and has maintained steady growth in recent years. With the outstanding performance of OOH advertising in public welfare, creativity, and quality enhancement, the industry is developing healthily and steadily, especially the rapid development of DOOH.
This forum invited many industry experts to participate and share their thoughts. Sam Lee, deputy general manager of CTR MI, shared China's outdoor advertising development trend report. GroupM Wavemaker outdoor leader Eddie Zhuang analyzed how OOH in the new consumer era responds to the brand's new Demand. Jim Liu, WOO China and Asia representative talked about the global outdoor advertising trends and prospects. Nearly a thousand experts, scholars, and representatives of well-known advertising companies from all over the country gathered at the scene.
CAA outdoor advertising association and national taxi media established the "national taxi media cooperation platform",was officially announced at the forum. It is a non-profit platform for the vertical segmentation of the outdoor advertising industry. The platform aims to standardize the national taxi media market, coordinate industrial resources, and cooperation opportunities, and assist the national taxi media industry development.
CHINA­: 2021中国户外广告论坛于7月28日首次在青海西宁举办
2021是户外广告数字化发展元年。本届户外广告论坛首次在青海西宁举办,以"新起点,共同创造未来"为主题,重点围绕中国户外媒体新趋势、新消费型态、数据化赋能中国户外媒体、品牌对户外广告新需求等议题展开研讨。
中国广告协会会长张国华在主旨演讲中表示,中国户外广告投放量居世界第二位,2019年达到8790亿元,近年来一直保持稳健增长。随着户外广告在公益向善、创意水平、发展质量等方面表现亮眼,行业正健康稳步发展,特别是户外数字媒体发展较快。
此次论坛邀请重量级贵宾如CTR媒介智讯副总经理李健分享中国户外广告市场发展趋势报告;群邑集团户外负责人庄列泳分析新消费时代户外广告如何应对品牌新需求;世界户外广告组织中国、亚洲代表刘志彦谈全球户外广告趋势与展望等议题。全国各地近千名专家学者及知名广告公司代表齐聚现场。
此外,由中国广告协会户外广告分会,全国各地出租车媒体组成的"全国出租车媒体合作平台"于论坛上正式宣布成立。该平台为非盈利性平台,宗旨能规范全国出租车媒体市场,统筹产业资源与合作机会,推进全国出租车媒体行业健康发展。
Rc_20210803