Dirk Hülsermann, president of OVAB Europe, and Manager DOOH Solutions, NEC, kicked off the ScreenMedia Professionals Conference at #ScreenMediaExpo Wednesday morning with a homework message.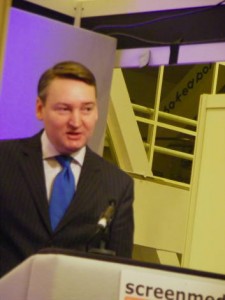 After a run-through of some interesting figures – 42% of people's time is now spent out-of-home; German DOOH increased revenue 20% in 2010 with another 30% increase expected in 2011; UK revenues grew 31% in Q1 of this year, among others – Hülsermann accused the audience: "You people didn't do your homework."
"The key is standardization," Hülsermann said. "It is what is needed. Companies like Intel, Microsoft and NEC have made it easy for people to put in a screen. And in terms of software, Ayuda's OpenSplash has been standardized as a player and I hope others will use it.
"But standardization is needed throughout the whole industry if it wants to grow. On the process side, it has to be standardized and simplified. On the compliance side, there needs to be proof-of-play and audience metrics, not done as now by the network operators but by a neutral third-party source. Right now you under-deliver or over-deliver. You must get compliance if you want agencies to pay attention."
Hülsermann says that audience metrics must also be standardized. "Otherwise, agencies won't trust us."
Stressing that DOOH companies should learn from others – citing the Internet and what Dart by DoubleClick was able to accomplish, quadrupling business within a couple of years, as an example. Hülsermann concluded by telling the DOOH industry to listen and comply to agency rules, and to "Do your homework."