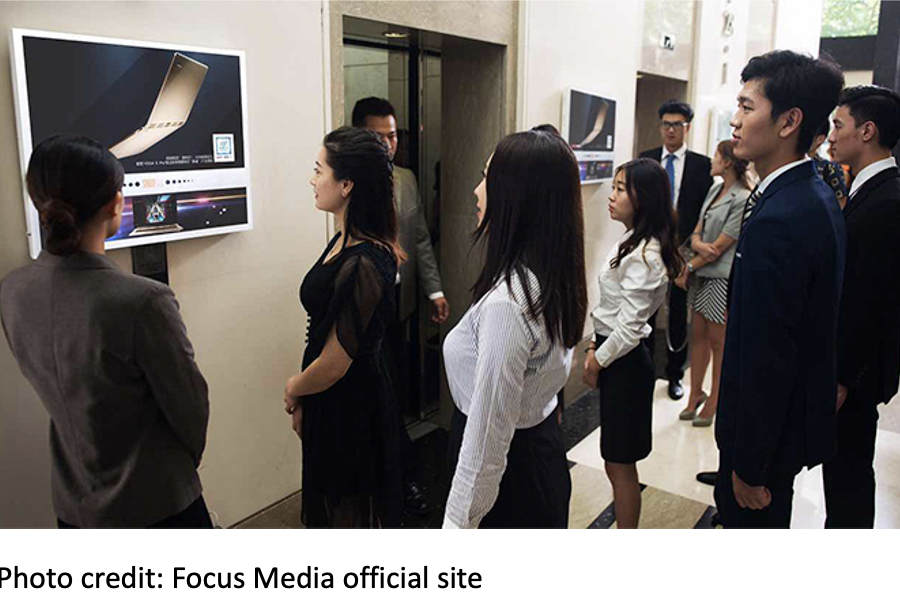 On August 16, Focus Media (002027.SZ) announced its 2022 1st semi-annual report. The company achieved an operating income of RMB 4.852 billion, a YOY decrease of 33.77%; a net profit of RMB 1.403 billion, a YOY decrease of 51.61%, and the net profit after extraordinary gains and losses of RMB 1.08 billion yuan, a year-on-year decline of 58.34%.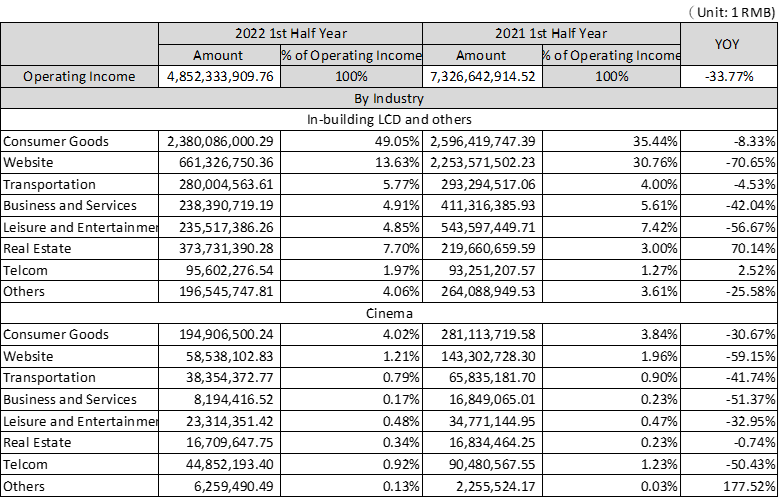 In the first half of 2022, Focus Media's in-building LCD media realized an operating income of RMB 4.456 billion, a year-on-year decrease of 33.04%; In the same period, cinema media realized an operating income of RMB 391 million, down 39.96% from the same period of the previous year.
For "In-building LCD and others" media category, the advertising revenue from the Website industry was RMB 661 million, a YOY decrease of 70.65%, and the proportion of operating income also fell from more than 30% in the first half of 2021 to 13.63%. In contrast, "Daily Consumer Goods" fell by only 8.33% YOY, and other industries fell much smaller than Website industry; in terms of "Cinema" media category, advertisements from Website industry were RMB 58.5381 million, decreased 59.15% YOY.
Focus Media said that due to the epidemic's impact since March, especially in April and May, the company could not release advertising in some key cities, and its business activities were greatly affected. Therefore, the operating performance in the first half of the year had a relatively substantial decline compared to the same period last year. Since June, with the improvement of the national epidemic prevention and control situation, the overall market demand for advertising demand has gradually recovered.
分众传媒2022年上半年较同期净利减半
8月16日分众传媒(002027.SZ)公布了2022年半年报。今年上半年,该公司实现营业收入48.52亿元,同比下降33.77%;实现净利润14.03亿元,同比下降51.61%,扣非净利润为10.8亿元,较上年同期下降58.34%。
上半年,分众传媒楼宇媒体实现营业收入44.56亿元,同比下降33.04%;同期影院媒体实现营业收入3.91亿元,较上年同期下降39.96%。
"楼宇媒体及其他"的明细里面,来自网际网路行业的广告收入为6.61亿元,同比下滑70.65%,占营业收入的比例也从2021年上半年的超过三成下滑到13.63%,相比之下,"日用消费品"同比跌幅只有8.33%,其他行业跌幅也比网际网路要小得多;"影院媒体"方面,来自网际网路行业的广告为5853.81万元,同比下滑59.15%。
分众传媒称,受三月份以来各地疫情影响,广告市场需求疲软,尤其在四月和五月,公司部分重点城市广告正常发布受限,经营活动受到极大影响。因此,上半年经营业绩较之去年同期有较大幅度的下滑。六月份以来,随着全国疫情防控形势好转,市场需求逐渐复甦。
Rc_20220818

---
Interested in becoming a member?
Fill in your details and submit the form, we will contact you shortly about membership...
---
Subscribe to our weekly OOH newsletter
LATEST INDUSTRY NEWS: focusing on the top OOH stories of the week from around the world.