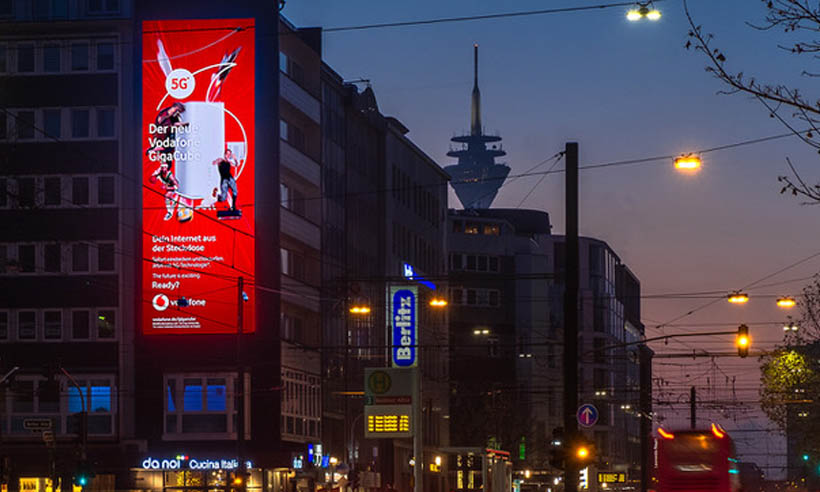 blowUP media, a member of the Ströer Group, has pioneered the Giant Poster business in Europe over the last three decades by giving the world's biggest brands the opportunity to reach their audience with the most impactful and compelling advertising messages. By adding large format digital screens alongside their classic Giant Poster portfolio, blowUP media is now able to be more flexible, more dynamic and more targeted in its advertising solutions.
Consistently looking to grow their digital portfolio in the right locations, blowUP media acquired the large format digital screen in Düsseldorf, Germany. In a country where giant digital screens are still a rare site in large cities due to planning regulations, the 64 m² "Mega Vision" is the biggest digital screen in the city centre and therefore a real milestone for the company and a true landmark for the city. Düsseldorf is a well-connected city with a thriving entertainment and nightlife scene. The affluent city also has a considerable reputation for its fashion, media and arts scene.
The Mega Vision provides a creative platform for brands, creates awareness due to its size and illumination, and is located at one of the city's busiest intersections. Placing their message in the middle of the city centre, brands can reach around 100,000 people every day: professionals and commuters in the morning, city shoppers in the middle of the day, night owls in the evening and tourists at the weekend – the Mega Vision attracts a very diverse and affluent audience.
Their new digital proposition perfectly fits within blowUP media's mission to offer "ownership" and "stand-out" to brands and connect them to their target group with great impact. Large format DOOH combines flexibility, dynamism and branding values at premium locations.
Katrin A. Robertson, CEO of blowUP media: "Our Mega Vision allows our clients to activate their brand emotionally by using impressive, attention-grabbing and innovative images in high-resolution at one of the busiest and most pulsating locations of the city. Furthermore, this state-of the-art screen is a welcomed addition to our premium large format Giant Poster portfolio and undoubtedly has the power to captivate Düsseldorf's ambitious and hard-to-reach audience."