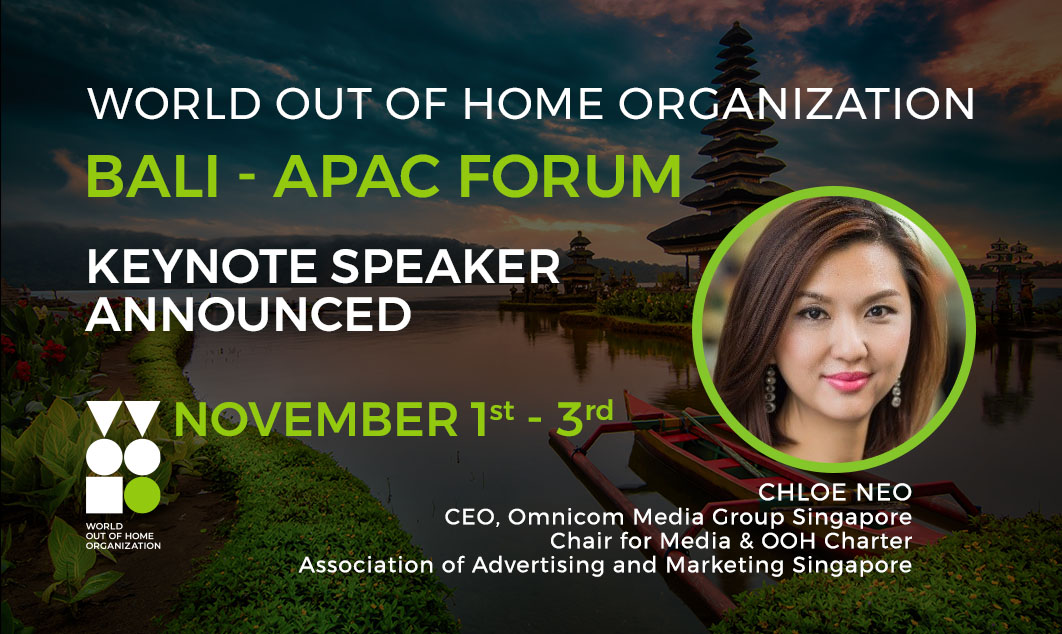 Omnicom Media Group Singapore CEO Chloe Neo is to be a keynote speaker at the World Out of Home Organization's forthcoming Asia Forum in Bali, Indonesia from November 1-3.
Neo, has held a number of senior media posts with a myriad of National, regional and global businesses in markets such Singapore and China. She will speak as Chair of the Association of Advertising & Marketing Singapore (AAMS) and cover the area of cross-channel measurement, seen by many as the key to unlocking growth for OOH in an increasingly omnichannel world.
With her broad knowledge of all media and experience of some of the world's biggest clients she will bring a unique perspective to the Forum's discussion of the potential and challenges for Out of Home in a rapidly evolving and dynamic region. Reliable and accurate cross-channel measurement is one of the keys to unlocking this potential.
WOO CMO Richard Saturley says: "Chloe is one of the top names in Asian media and we are very fortunate to have secured her as a speaker for the Asia Forum. Cross-channel measurement is a major issue for all advertisers, and she will be an invaluable guide as OOH finds its place in an increasingly omnichannel media world."
Further speaker announcements will follow in the coming weeks.
The registration fee for WOO Members is €300 Euros and €450 for non members.

Registration includes all the congress sessions, Coffee breaks, Light Lunch on Thursday, the Celebration Evening Dinner and Social Events, unless specified. It does not include hotel accommodation.
On the registration form please find a link offering a specially negotiated hotel booking rate as well as important details of visa requirements for delegates travelling form outside Indonesia.
---
Interested in becoming a member?
Fill in your details and submit the form, we will contact you shortly about membership...
---
Subscribe to our weekly OOH newsletter
LATEST INDUSTRY NEWS: focusing on the top OOH stories of the week from around the world.