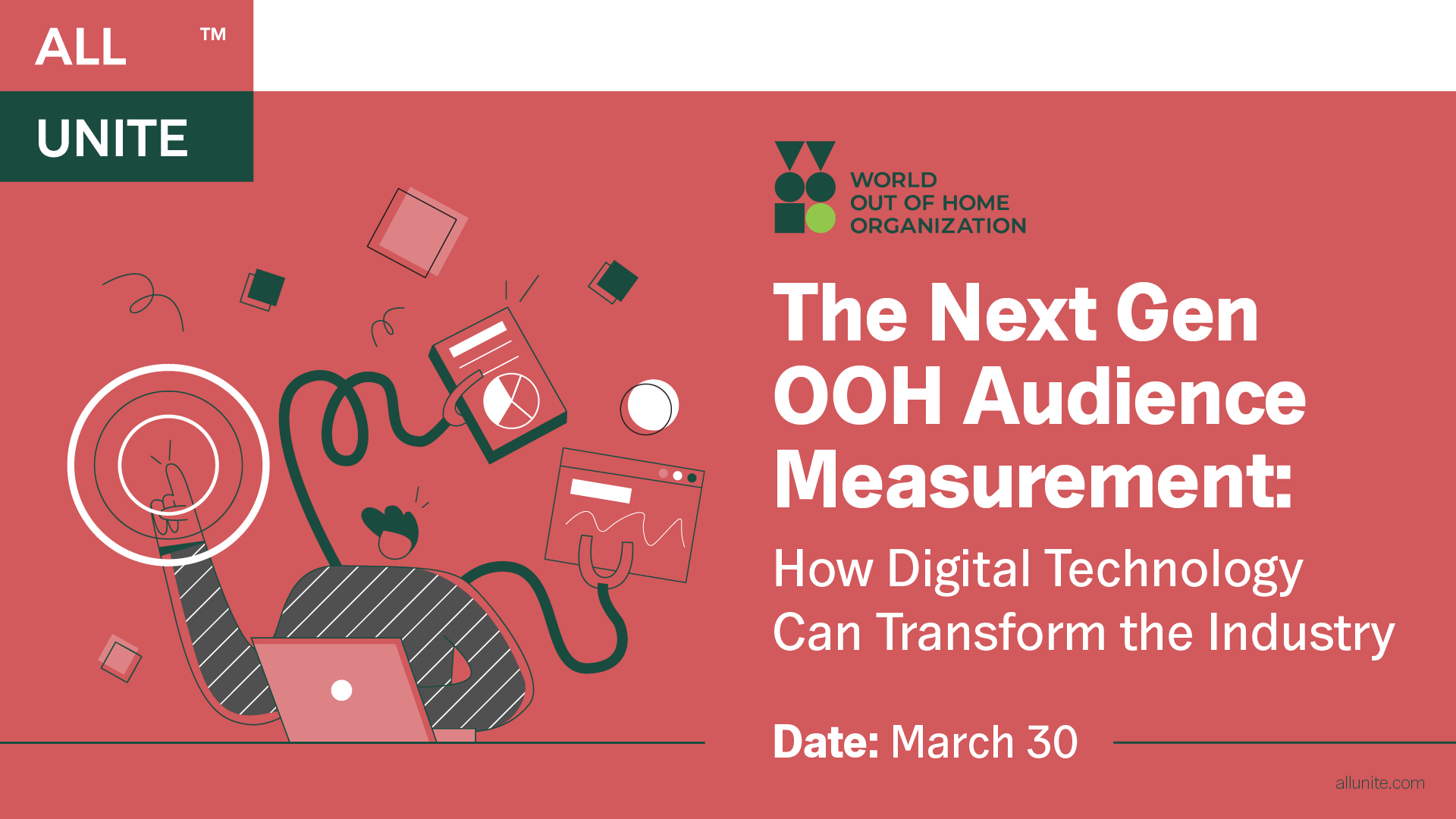 MEMBERS CAN DOWNLOAD THE VIDEO AND THE PRESENTATION SLIDES BELOW
The Webinar
The OOH industry's digital shift creates exciting opportunities for advertisers to engage audiences in new and innovative ways. Digital sensors, data analytics, and machine learning enable targeted and impactful campaigns that respond to real-time data and audience behaviour.
At AllUnite, we are obsessed with technology - both hardware (we've tried them all!) and software.
In this webinar, we will share the old and the new technology that can be used in audience measurement, including our vision for real-time programmatic bidding. Together with JCDecaux and Clear Channel Brazil (within a joint project MapaOOH Brazi), we turn this vision into reality: developing and testing new digital technologies that enable real-time data collection and analysis, dynamic campaign planning and execution, and more effective audience targeting.
Speakers:
Esben Elmoe (CEO)

Esben Elmoe is an experienced technology entrepreneur and investor based in Denmark with a passion for innovation and digital transformation.

Prior to founding AllUnite, Esben held executive positions at several leading e-commerce companies, achieved successful exits and a company listing during his career and bringing extensive experience in scaling and commercializing technology-driven businesses.

Kristina Rudoman (CCO)

As a Chief Commercial Officer, Kristina Rudoman drives the global expansion of AllUnite and strategic alignment of the company's products with the OOH industry's requirements. With the focus on data monetization and commercialization, Kristina supports co-creation of innovative products and services that enable clients to extract more value from their data and explore additional revenue opportunities for OOH media owners.

AllUnite is a global adtech company that specialises in OOH advertising audience measurement and analytics. Its technology provides real-time data on audience behaviour and ad exposure, enabling OOH media owners, advertisers, and agencies to make data-driven decisions and optimise campaign performance. AllUnite's solutions include digital sensors and holistic data analytics tools. The company is headquartered in Copenhagen, Denmark, with presence in Milan and Sao Paulo, and serves clients globally.
MEMBERS CAN DOWNLOAD THE VIDEO AND THE PRESENTATION SLIDES HERE
If you are a member and do not have access to the database please contact mark@worldooh.org or heather@worldooh.org . If you are not a member and would like to join please fill out the form below.
---
Interested in becoming a member?
Fill in your details and submit the form, we will contact you shortly about membership...
---
Subscribe to our weekly OOH newsletter
LATEST INDUSTRY NEWS: focusing on the top OOH stories of the week from around the world.