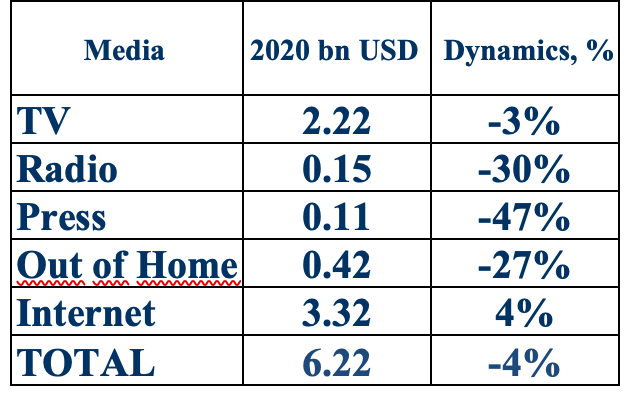 Last week the Expert commission of the ACAR (Association of the Communicative Agencies in Russia) released the ad market figures in Russia in 2020.

Overall, the Russian advertising market went through a difficult "covid" year much better than the vast majority of foreign markets. While the global advertising market fell by 7.5%, according to Zenith, the Russian market shrank by only 4%.
In some months the advertising spend in OOH, radio and press was reduced by 2-3 times, however the situation gradually began to improve at the end of the year.

Out-of-home in particular (including outdoor, transit and indoor) demonstrated decrease by -27% compared to 2019 with ad spend of 32,2bn RUR (~0,42bn USD)
Various categories of advertised goods and services, both under the influence of specific industry restrictions and due to a decrease in consumer activity of the population, suffered during this crisis to varying degrees. The companies operating in the entertainment and tourism industries, in the markets of cars, mobile phones, cosmetics and perfumery, and traditional retail trade decreased their activity in the advertising market more than others. At the same time, certain segments increased their advertising and marketing budgets - these include, first of all, e-commerce, various Internet services, hygiene products, pharmaceuticals, and food retail.

---
Interested in becoming a member?
Fill in your details and submit the form, we will contact you shortly about membership...
---
Subscribe to our weekly OOH newsletter
LATEST INDUSTRY NEWS: focusing on the top OOH stories of the week from around the world.