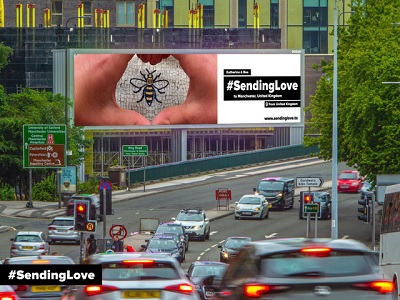 #SendingLove the world's largest UGC powered digital out of home campaign, worth $15 million in total media value, is set to extend through to mid-June. Media owners have backed the decision to extend the campaign by two weeks and continue to spread messages of love and unity to help fight against the effects of COVID-19.
The fundraising push from Talon and Grand Visual has received thousands of submissions and global news coverage as far afield as China, Australia, and South Africa, and continues to build momentum with new media owners and territories on-boarding.
Adrian Skelton, Managing Partner, Talon said: "Securing digital locations around the world has been a feat of amazing collaboration between Plexus our global network, the World Out of Home Organization (WOO), and the OOH industry at large. The commitment to get things done has been incredible to see and we are still on-boarding new media owners as we speak."
Neil Morris, CEO, Grand Visual said: "The response to this campaign has been phenomenal. It's great to see the campaign growing, not just in terms of its global OOH footprint, but also in terms of the number of UGC submissions we are receiving and the social buzz this is creating as participants share their moment of fame with friends and family online.
"Twitter has come alive with #SendingLove pictures featuring the love heart hand symbol which is helping to drive people to take part and raise money for the global COVID-19 Solidarity Response Fund. We couldn't be happier with the results."
WOO President Tom Goddard says: "This campaign has a been a ground breaker in showing how the global OOH industry can come together. It should inspire us as we move towards recovery more united than ever."
To participate and send love to those in places you cannot travel to, get creative with the heart-hand symbol and upload your pictures and locations to www.sending love.to.