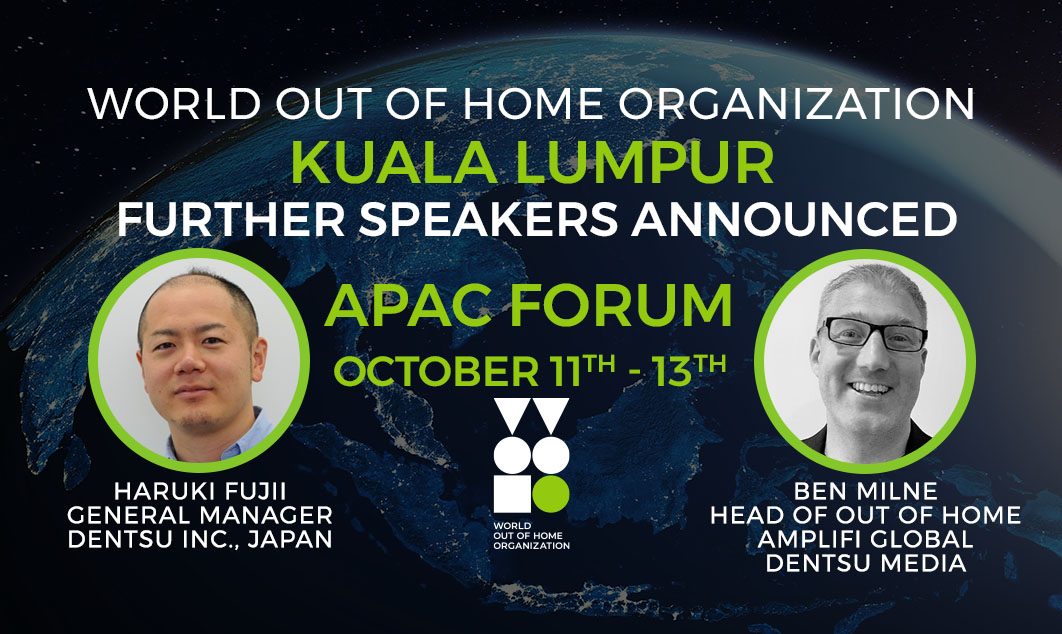 WOO APAC Forum : Dentsu on Out of Home in Japan
Japan is the third largest media market in the world behind the US and China and ahead of the UK and Germany with an estimated spend of $52bn.
Dentsu is the biggest ad agency in Japan, one of the biggest in the world with a growing international network, and no company is better placed to review Out of Home developments in Japan and their likely impact on the APAC region and wider world.
WOO's APAC Forum, to be held in Kuala Lumpur, Malaysia from October 11-13, features two key Dentsu executives: General Manager Strategy and Sales Digital Out of Home Haruki Fujii and Head of OOH Dentsu International Ben Milne, well-known to WOO members and delegates.
Fujii has spent 18 years at Dentsu in a number of management roles including helping to establish Dentsu's LIVE BOARD as a DOOH standard in Japan and handling in-bound OOH campaigns for global clients.
Milne, who spoke on media planning at WOO's Global Congress in Toronto, has spent 23 years at Dentsu, building the agency giant's OOH presence, devising and implementing strategy and establishing and nurturing relationships with other media platforms.
WOO CMO Richard Saturley says: "Japan remains a leader on the worldwide media stage and Dentsu has played a major role in building OOH, particularly digital, through technology and measurement initiatives in Japan and the wider world.
"We are very lucky to have two such experts from an acknowledged ad giant to help map out an exciting future for Out of Home in the APAC region."
Click here for a Forum overview.
CLICK HERE TO REGISTER
Full details of the Speaker programme will follow shortly.
---
Interested in becoming a member?
Fill in your details and submit the form, we will contact you shortly about membership...
---
Subscribe to our weekly OOH newsletter
LATEST INDUSTRY NEWS: focusing on the top OOH stories of the week from around the world.