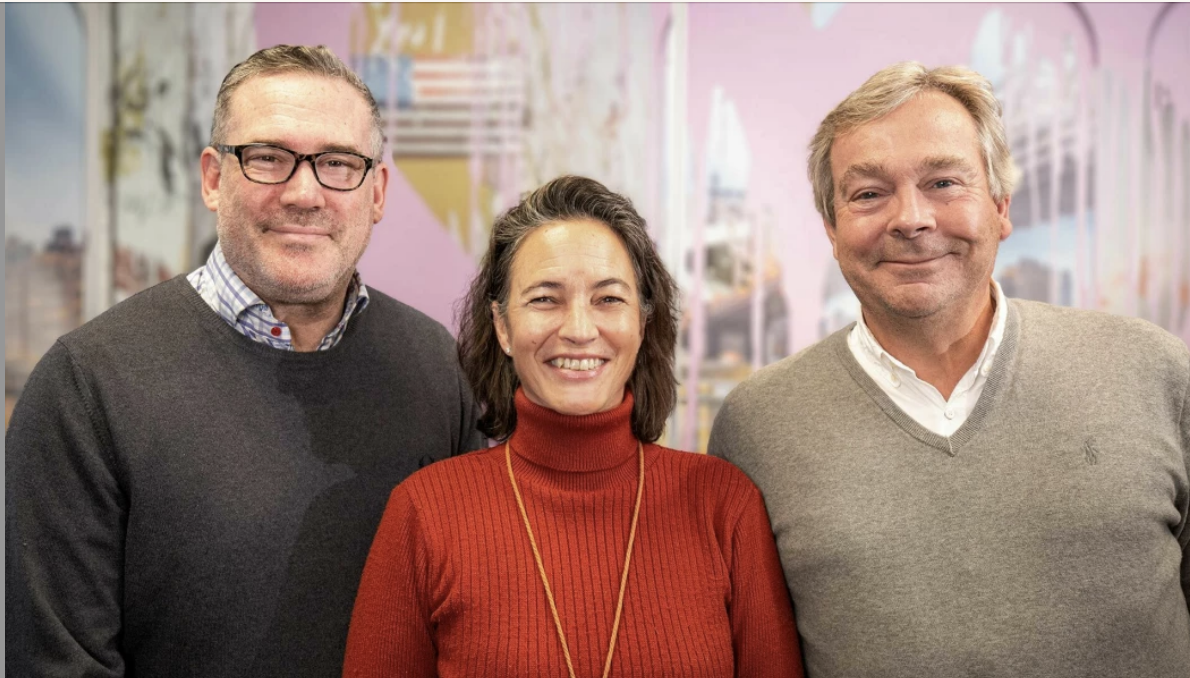 Outdoor Media AS is pleased to announce the appointment of Ipsos to deliver the next generation of OOH measurement system in Norway in 2024.
Outdoor Media AS, the Norwegian Outdoor Media industry body comprising of Clear Channel, JCDecaux and Ocean Outdoor have cooperated since 2008 to provide Out of Home audience metrics in the industry. With the growth of digital OOH technologies, the need for more granular representative data that is up-to-date has increased and an extensive tender process was launched at the end of 2021 to determine the best way to measure both current and future out of home media.
Picture from left to right
Bjørn Erik Broady Aasebø – Clear Channel
Nathalie Eyde Warembourg - Ipsos
Øyvind Markussen – JCDecaux
The tender was managed with the assistance of an independent media auditing and consulting company, 3M3A, and focused on several aspects including the:
- Complexities and opportunities of digital signage
- Ability to measure indoor frames
- Capability to add transit arenas
Key industry stakeholders were consulted throughout the process to support the development of a scientifically proven and independently managed measurement system. Outdoor Media received responses from five leading global and European measurement companies and Ipsos was selected based on the robustness of their approach.
As part of the process, it was also determined that the Outdoor Media measurement system should continue to use the gold standard method - Postar - licensed from Route in the UK system, which will ensure that Norwegian outdoor companies are able to provide the most precise Visibility Adjusted Contacts (VAC) for Viewed impressions.
Øyvind Markussen, Managing Director of JCDecaux Norway, says, "Ipsos, in combination with their technology division MGE Data offered us with the most complete and innovative solution. We will increase our sample sizes by leveraging their unique multi-sensor tracking devices and through the creation of synthetic participants. We will also expand our service to include indoor modelling and all the data will be delivered through a sophisticated and simple to use planning software."
Ipsos has a proven history of delivering OOH solutions to many European countries. The methodology is one of the most advanced and reliable solutions in the OOH space. The new solution will combine highly accurate people-level data from a travel survey with Big Data from multiple sources. It measures all frames (digital and analogue) across different environments within one model, meaning that different formats and networks will be measured together in a comparable manner.
"The real work begins now in terms of fieldwork and the reclassification of the entire panel database. However, we are confident that the new Outdoor Media system will put the Norwegian OOH industry at the forefront of media measurement" says Øyvind Markussen.
"Out of Home is an exciting media channel that has strongly digitalized its offer and shows great growth in Norway. Outdoor Media has an ambitious vision that we look forward to making happen. The technological development of our methods, data fusion and intelligent modelling enhanced by our experience in many markets will allow us to deliver a future ready currency in Norway. We look forward to work with the technical committee representing the industry including the advertisers and the media agencies, bringing this live in 2024" underlines Nathalie Eyde Warembourg, Country Manager, Ipsos in Norway. "The development is planned to take 18 months and is starting right away."
Finn Wikander, Chief Product & Strategy Officer, Clear Channel Scandinavia, "the New Outdoor Media system will be a completely new system for the outdoor industry, with significantly greater capacity to analyse OOH's performance at a much more granular level across different target groups, locations and formats. We are pleased to be partnering with Ipsos in this exciting project and will provide further updates to the industry in the months to come"
The current CAFAS tool will remain in place and available to the industry until the new system is introduced to the market in 2024.
For further information please contact:
Outdoor Media:
Bjørn Erik Broady Aasebø, bjorn.aasebo@clearchannel.no
Øyvind Markussen, oyvind.markussen@jcdecaux.com
Ipsos:
Daniel Wong-Chi-Man, daniel.wong-chi-man@ipsos.com
Nathalie Eyde Warembourg, nathalie.warembourg@ipsos.com

---
Subscribe to our weekly OOH newsletter
LATEST INDUSTRY NEWS: focusing on the top OOH stories of the week from around the world.