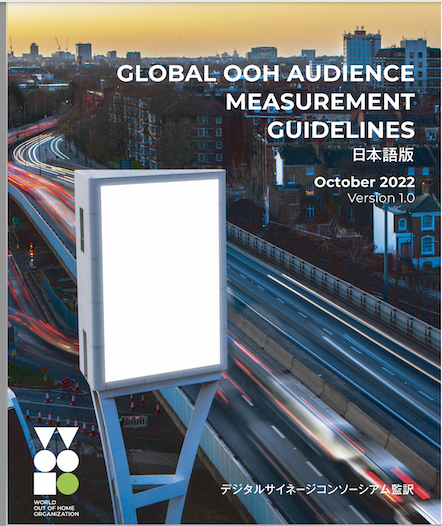 The Digital Signage Consortium (DSC), a member of the World OOH Organization (WOO), has published a Japanese version of the "GLOBAL OOH AUDIENCE MEASUREMENT GUIDELINES" released by WOO at the Toronto Congress in May this year.
URL:
https://digital-signage.jp/wp-content/uploads/pdf/20221002_WOO-Global-OOH-Audience-Guidlines-Japanese_FINAL_Clean.pdf
Background
In 2009, WOO (formerly FEPE), the world's only global OOH industry association, released "GLOBAL GUIDELINES ON OUT-OF-HOME AUDIENCE MEASUREMNET"(ESOMAR guidelines), which provides measurement guidelines for estimating the number of OOH "viewers" and is the golden standard for OOH audience measurement models around the world. Building on the existing ESOMAR guidelines, to meet the modern needs of markets, WOO revised the guidelines and released at the WOO Toronto Congress in May this year.
Whilst DSC developed and released the "Audience Measurement Guidelines (1st Edition)" on March 1, 2021, which aims to develop and introduce a standard for OOH audience measurement. To this end, DSC joined the WOO as the first association member from Japan and worked with the WOO Guidelines Committee to develop the new guidelines.
Objectives
The aim of publishing the new global guidelines, "GLOBAL OOH AUDIENCE MEASUREMNET GUIDELINES," is to promote sector growth across the world by improving the value, accountability and trust in OOH everywhere and updating existing practice for the DOOH era. In order to accelerate the spread of standardization and promote the growth in the Japanese market, DSC translated and published the guidelines today with the permission from WOO.
World Out of Home Organization President Tom Goddard says: "Audience Measurement is a hugely important issue for Out of Home and it's great to see that the DSC is extending the reach of the guidelines WOO unveiled at our Global Congress in Toronto in May. We all need to move together to drive OOH as a truly global medium and this is a big step forward. This timely announcement will give us much to talk about at our forthcoming APAC Forum in Kuala Lumpur (October 11-13), where Audience Measurement will be one of the key items on the agenda."
World Federation of Advertisers (WFA) Initiatives
The World Federation of Advertisers (WFA) has established a working group to research and disseminate information on cross-media measurement standards - the visibility-based standard "Project Origin" - in response to the growing importance of measurement in cross-media environments.
Mr. Shinji Suzuki, Senior Executive Director of the Japan Advertisers Association (JAA), a member of the WFA, commented on the publication of the Japanese edition of "GLOBAL OOH AUDIENCE MEASUREMNET GUIDELINES" as follows:

"Various studies have suggested that OOH has tremendous media value, and market is expected to expand in the future. Looking at today's advertising activities, where cross-media environments have become the norm, it is important to standardize metrics in order to compare with various media sectors. Although it will take time, we hope that industry stakeholders will unite in standardization efforts, based on these global guidelines."
About WOO
The World Out of Home Organization (WOO) is a worldwide association for media owners, media agencies, national associations and service suppliers connected to OOH. Our membership base is currently over 120 individual organizations more than 100 countries, across five continents. WOO connects the world of OOH by sharing knowledge, best practice and forecasting futures. We also celebrate creativity and showcase innovation. Additionally, we champion Out of Home by supporting members in lobbying activities with local authorities, international organizations, political opinion formers and communications media.
About DSC
The Digital Signage Consortium (DSC) is a Japanese national industry body established to solve issues facing the digital signage industry and to accelerate market growth. The DSC consists of over 90 stakeholders including advertising agencies, media owners, system integrators, hardware vendors, telecommunication carriers, transportation companies, content providers, etc. The DSC aims to make Japan the world's leading signage country by actively incorporating technologies such as IoT, cloud computing, edge computing, and AI to improve the signage experience in everyday life.
Media Contact:
Rina Fujisaki
Secretariat Office
staff@digital-signage.jp
URL:http://www.digital-signage.jp/

---
Subscribe to our weekly OOH newsletter
LATEST INDUSTRY NEWS: focusing on the top OOH stories of the week from around the world.