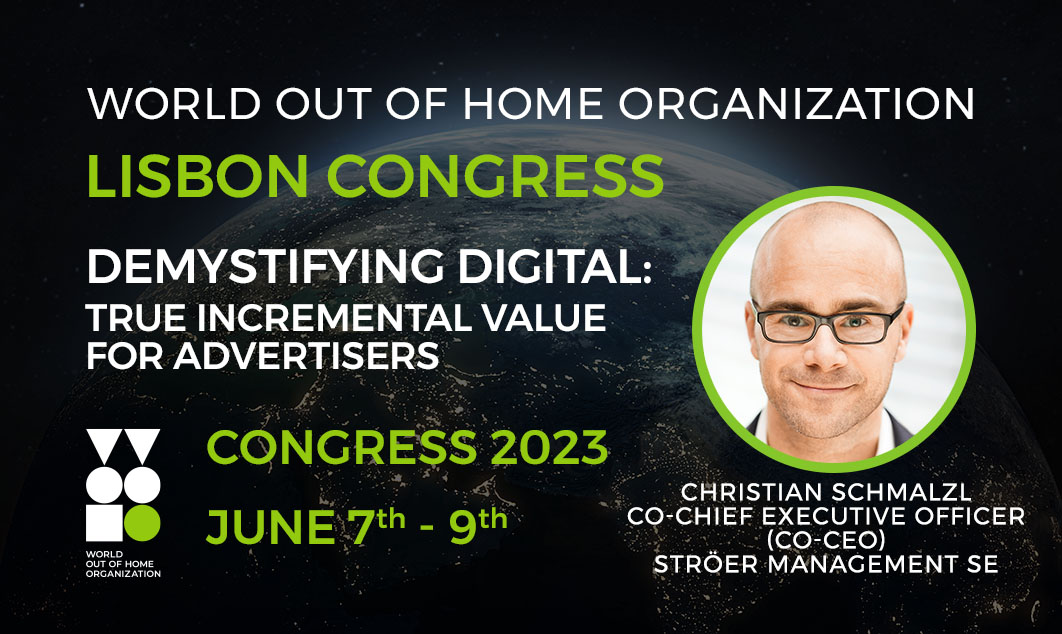 Ströer Management SE Co-CEO Christian Schmalzl will speak on Day 1 at the World Out of Home Organization's Global Congress in Lisbon from June 7-9. Schmalzl will address Congress on the theme: 'Demystifying Digital: Creating True Incremental Value for Advertisers.'
Ströer is one of the leading German media companies with over 100 offices throughout the country and is listed on the MDAX of the German Stock Exchange. Ströer uniquely combines Out of Home advertising with digital publishing, dialogue marketing, e-commerce and data analysis.
Schmalzl will discuss current digital OOH developments in the German market, the benefits of cross-media strategies and how to pitch them to advertisers. Ultimately, he will say, the growth of DOOH depends on explaining the incremental value to advertisers more than the pros and cons of programmatic or the number of screens.
WOO President Tom Goddard said "We're very pleased to announce Christian as our first Speaker. Certain aspects of digital, especially programmatic, remain a controversial issue in Out of home and Christian will bring Lisbon delegates an invaluable perspective on the issue, one based on real experience."
With the WOO Lisbon Congress is fast approaching, we are excited by the high number of registrations so far and would suggest you register for the Congress as soon as possible.
---
Subscribe to our weekly OOH newsletter
LATEST INDUSTRY NEWS: focusing on the top OOH stories of the week from around the world.