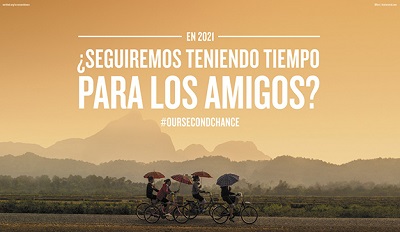 The World Out of Home Organization's #oursecondchance campaign, which was launched this week, is rapidly achieving global coverage, as OOH media companies and National Trade Associations across the world sign up to support what will be the largest ever worldwide Digital OOH campaign.
The campaign, which has been created by UK creative agency New Commercial Arts, with production and distribution managed by Grand Visual, is being rolled out across five continents in 10 languages and over 30 countries so far.
Next week will be see the start of a major social media initiative with the hashtag #OurSecondChance deploying Twitter polls to explore consumer attitudes to the choices and opportunities presented in a world changed by Covid-19.
Mark Flys, General Secretary of the World Out of Home organization, says. "Our heartfelt thanks go to all those in the OOH community across the world who have contributed their time, effort and inventory to make this happen. And there is still time for any organisation not involved yet to sign up and take part." If you need more information or want to get involved, please contact Mark mark@worldooh.org
Interested in becoming a member?
Fill in your details and submit the form, we will contact you shortly about membership...