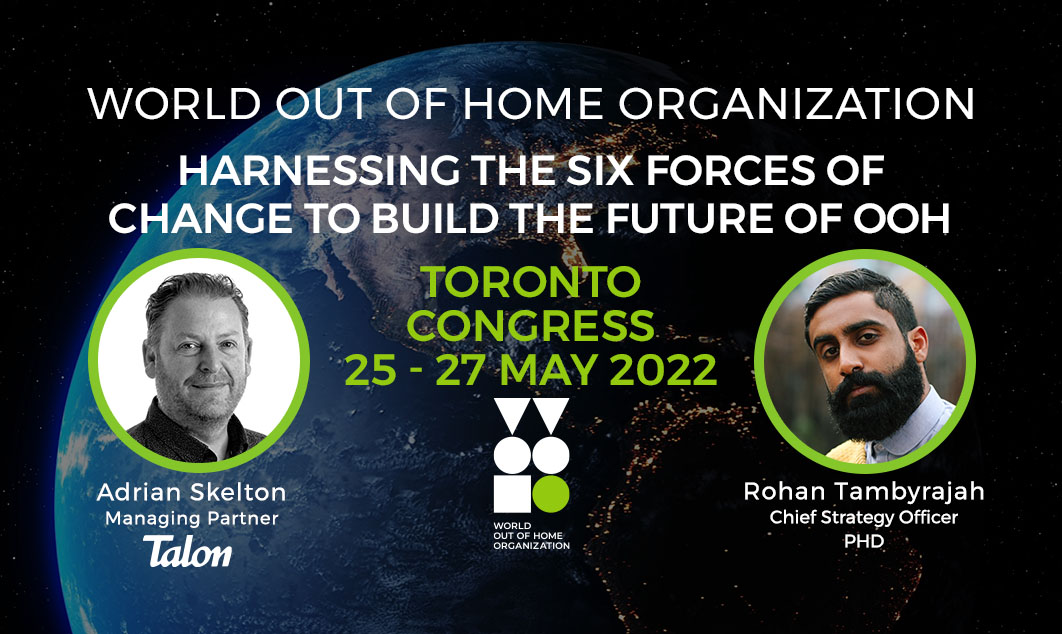 Talon Outdoor's Adrian Skelton and Rohan Tambyrajah, Chief Strategy Officer PHD Global Business will discuss how developments in data and technology, accelerated by the disruption of a global pandemic, have radically reorganized the world of marketing and media – but what does this mean for Out of Home?
Rohan Tambyrajah, Chief Strategy Officer PHD Global Business, and Adrian Skelton, Managing Partner Talon Outdoor, will explore the six forces of change, as identified in Shift | A Marketing Rethink, and present tangible implications to help outdoor media owners and brands get ahead. They will discuss advertising's evolution from a creative business to a technology business - encouraging leaders to take a proactive approach to transformation when building the future of OOH.
Adrian Skelton – Managing Partner Talon Outdoor
Adrian Skelton has over 25 years of OOH experience, joining Talon Outdoor in its infancy in 2014 and quickly becoming managing partner. A key part of Talon's senior management, he recently oversaw the initial US expansion, the launch of Talon's International offices in Germany, Dubai and Singapore and the development of the groups global OOH network Plexus.
Adrian previously spent over a decade at Kinetic where he set up and ran the direct appointment side of the business.
Rohan Tambyrajah, Chief Strategy Officer PHD Global Business
Rohan is a communication strategist with over 18 years' experience working in agencies and media companies. His strategic capabilities are centred around a background in digital and a fascination with how technology is changing consumer and brand behaviour.

As the Chief Strategy Officer in PHD Global Business, Rohan heads up a large team of strategists, planners and innovators and oversees the strategic output across PHDs portfolio of large global brands. He works with household brands such as HSBC, VF Corp, VW Group, Chanel and Diageo.
CLICK HERE FOR THE CONGRESS PROGRAMME OVERVIEW AND TO REGISTER FOR CONGRESS
Over the coming weeks we will be announcing more details of the international Speaker Programme.
---
Interested in becoming a member?
Fill in your details and submit the form, we will contact you shortly about membership...
---
Subscribe to our weekly OOH newsletter
LATEST INDUSTRY NEWS: focusing on the top OOH stories of the week from around the world.