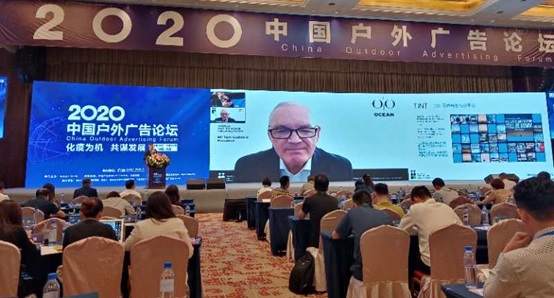 On August 20th and 21st, "2020 China Outdoor Advertising Forum" hosted by the China Advertising Association was successfully held in Taiyuan, Shanxi. This event was a large-scale industry forum with a wide range of influence in China's OOH advertising industry. It has been held for seven consecutive sessions since 2011.

The theme of this forum was " Turning the epidemic into an opportunity and seeking new development together", highlighting the concept of innovative development, optimization and integration, sharing the development results of China's OOH advertising, as well as an in-depth discussion of the development trends of China's OOH advertising industry in the post-epidemic era including the new needs of advertisers.

The forum included learning from around the world with WOO President Tom Goddard and Posterscope CEO Jim Liu connecting via video link. Tom Goddard shared how WOO had sought to better integrate with global peers and share mutual experiences through the pandemic. This included a series of group calls allowing members to exchange experiences and understand how the OOH market was returning through mobility research. In addition, Tom demonstrated how the global OOH industry had shown unity by coming together to demonstrate the power of OOH by hosting arguably the world's largest DOOH Campaign #OurSecondChance.

The scale of the event was grand. With the guidance and support of government officials, nearly 1,000 people from outdoor advertising business units, research institutions, and market supervision departments from all over the country participated in the forum.

CHINA: WOO主席汤姆·戈达德(Tom Goddard)出席中国户外广告论坛,旨在为户外广告寻求恢复之路

8月20日、21日由中国广告协会主办,于在山西太原成功召开,中国广告协会会长张国华出席论坛并作主旨演讲。该活动也是中国户外广告业内影响力广具指标性的大型行业论坛,自2011年至今已成功举办了七届。

本届论坛以"化疫为机,共谋发展"为主题,以创新发展、优化整合为理念,共享中国户外广告的发展成果,深入探讨后疫情时代中国户外广告行业的发展趋势,挖掘广告主的新需求等等。

视频连线 同世界户外共交流

论坛包括通过WOO总裁Tom Goddard和Posterscope CEO 刘志彦通过视频链接进行的全球学习。汤姆·戈达德(Tom Goddard)分享了WOO如何与全球同行融合,并分享全球疫情彼此的经验。其中包括一系列的小组通话,使成员可以交流经验 ,并通过移动性研究了解OOH复甦的状况。此外,汤姆(Tom)举办,透过全球OOH行业的团结一致,举办或许可以说是世界上最大的DOOH公益活动#OurSecondChance,来体现OOH的影响力。

此次活动规模盛大,除政府官员莅临指导外,来自全国各地的户外广告经营单位、研究机构、市场监管部门等近千人参加论坛。
(rc:27/08/2020)