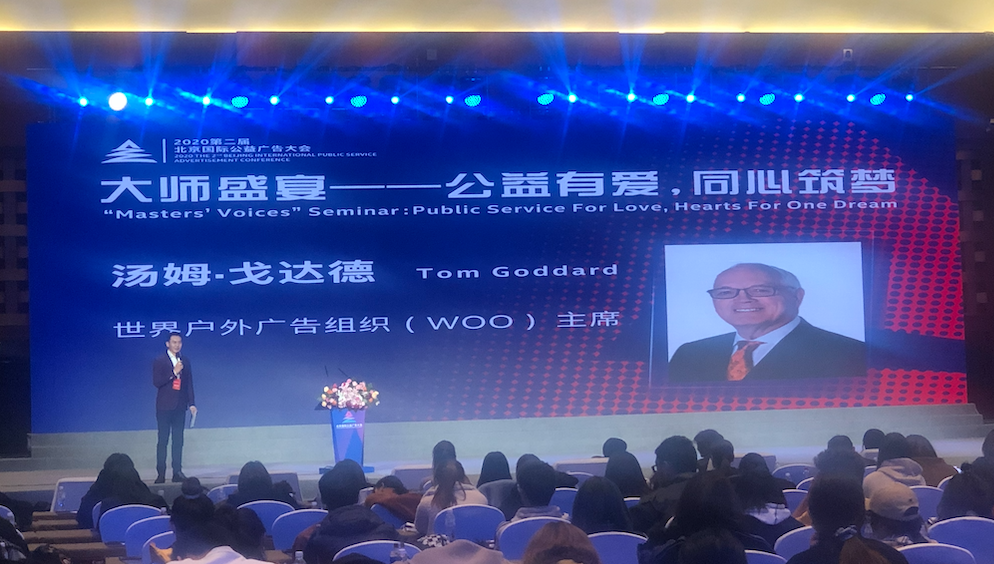 World Out of Home Organization President Tom Goddard presented to China's Public Sector Advertisement Conference by video link on November 9. He outlined the critical role OOH had played globally in providing timely and relevant information to the public during the pandemic, while at the same time charted a course for Out of Home to bounce back from the pandemic globally to an audience in a country where economic recovery is already underway.
Launched in 2019, the Conference was set up to share international insights and knowledge. Its sponsors include the National Radio and Television Administration and the Beijing Municipal Radio and Television Bureau.
In his presentation Goddard noted that Out of Home in China and elsewhere, he said, had been severely impacted by the pandemic as governments had ordered us to stay indoors.
This was gradually changing however - at different speeds in different parts of the world - with the unique properties of OOH likely to lead to a rapid recovery for the medium, echoing the experience of the last two major world recessions.
Of all the traditional advertising media, Goddard said, OOH had adapted best to become an integral part of the digital communications revolution. Over the last decade it had shown itself to be technologically compatible with the new digital media world. In part this was due to the explosive growth of digital screens around the world, including China, which sat at the cutting edge of LED screen technology.
But OOH was also demonstrating how it can work in partnership with the fastest-growing sectors of the worldwide ad market: online and mobile. Research showed that OOH generated significant online activity including online search, website visits, app downloads and even product discount vouchers.
The growth of automation and programmatic buying opportunities also highlighted OOH's position as a mainstream digital player.
But it doesn't stop there, Goddard said, as OOH now sits very comfortably as a point of convergence for social media engagement too. It's no coincidence, he said, that across the world, all the major tech companies - hardware, software or social media - are all big OOH users.
Alongside this OOH retains its role as a major brand building medium, deploying great creative to convey simple messages with massive impact, clearly and concisely.
This had been demonstrated very clearly in the pandemic itself, with OOH campaigns one of the main channels for public health and public service. campaigns, thus helping to improve and even save lives. digital OOH had provided both the reach and the flexibility for many of these vital messages.
OOH's role in a changing media landscape would only grow as the medium's benefits for advertisers - not least increased measurement and its brand safety strengths plus immunity from ad blockers - come to the fore.
Goddard concluded by reminding his audience of the incredible impact of WOO's own #OurSecondChance campaign which invited people to consider the positives that might emerge from the pandemic.
This, with incredible support from OOH media owners worldwide including in China and supported by an innovative social media campaign, ran in 60 countries with an estimated media value of more than $40 million. A template perhaps for the next big opportunity for OOH: as the most impactful and effective truly global advertising medium.
"It was a great honour to be asked to address this meeting," Goddard says. "China is a world leader in Out of Home and, with new members joining all the time, a leading participant in the World Out of Home Organization. The Conference was a great opportunity to learn from each other."
Click on the audio button below to hear the video in full (or you can download it here by right clicking and choosing save link as).