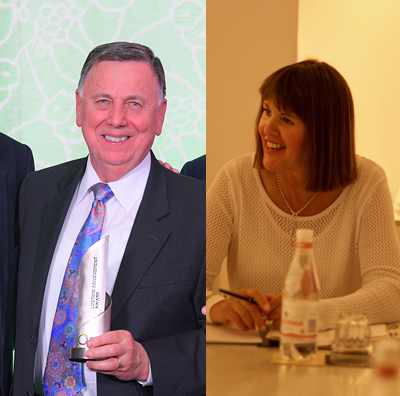 Rosanne Caron and Randy Otto, two leading figures in the Canadian Out of home industry, are stepping down from their respective roles at the end of 2020.

Caron has served as the President of OMAC (Out-of-Home Marketing Association of Canada) for 11 years and in 2015 took on the added role as President of COMB (Canadian Out of Home Measurement Bureau). In 2018, both companies merged into what is now COMMB. She is succeeded by Amanda Dorenberg

She began her advertising career with MediaCom where she held several positions before taking on the role of Vice President, Marketing and Research. Her research into "What Works in OOH" was published in the Journal of Advertising Research and presented internationally in the UK, Australia and the US.

Randy Otto is retiring after 16 years as President of Pattison Outdoor, one of Canada's largest OOH companies. In a 43-year career he oversaw the expansion of Pattison, partly through the acquisition of 15 companies, and played a key role in the formation of OMAC in 2002.

Otto was recognised five times by the Jim Pattison Group, one of Canada's biggest privately-held companies, for management success including twice as the President of the Year for the entire group. He also received the Canadian Ad Club's OOH Industry Merit Award in 2014.

He was awarded the WOO Lifetime Achievement Award at the Dubai congress in 2019.

WOO Chief Operating Officer Mark Flys says: "Randy and Rosanne are major figures in the Canadian Out of Home industry and worldwide. They have both been great supporters and made valuable contributions to, first, FEPE International and now the World Out of Home Organization. We wish them the very best for the future."