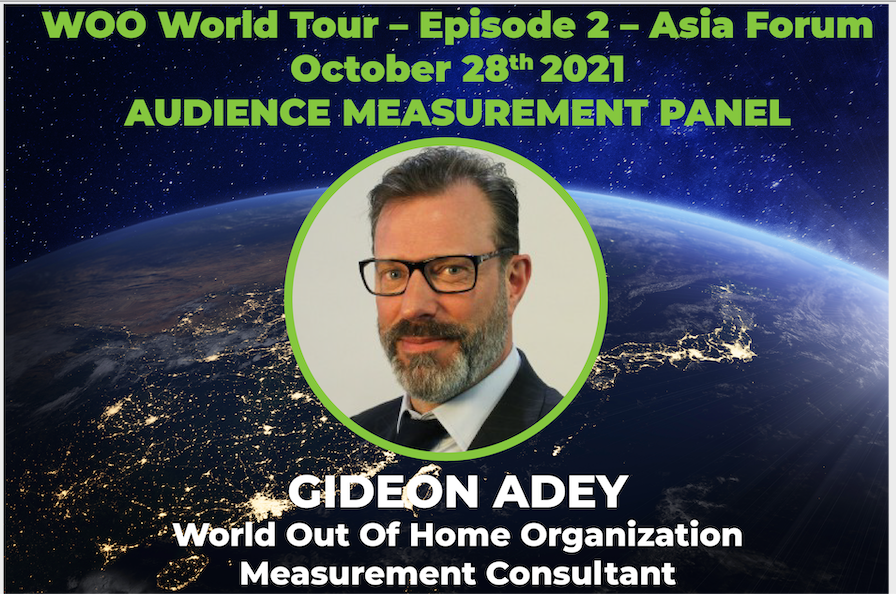 Key updates on Audience Measurement in Asia and our Programmatic Panel
Audience measurement is a pressing issue for the entire Out of Home industry as it emerges from the pandemic, particularly so in some parts of Asia.
Gideon Adey of Gurooh, who is working on an important WOO project updating audience measurement guidelines, will explore the views of a panel of experts at the inaugural WOO Asia Forum, a virtual event to be held on October 28.
Joining Adey will be Angie Cutter of TAC Media, Jun Sakurai from Live Board, Rachana Lokhande from the Indian Outdoor Advertising Association (IOAA.) and Franck Vidal from Adcity to give an advertiser's perspective. The panel will look at the value of Audience Data in Asia from a range of perspectives in an era when real time data is increasingly the currency of marketing and media.
Joining Clear Channel Singapore's Amanda Woo on the Programmatic Panel will be Remi Roques from Broadsign APAC, Gavin Wilson from VIOOH, Troy Young from Hivestack and Srikanth Ramachandran, Group CEO of Moving Walls. Programmatic has been the next big thing for some time now. The panel will discuss how the industry can finally move forward in a realistic and unified way.
WOO President Tom Goddard, who will open the Forum with an interview with Dentsu APAC CEO and India Chairman Ashish Bhasin, says: "We're delighted to have brought together so many experts from the region and outside for our first Asia Forum. It really is a great line-up.
"We will be announcing more speakers soon for what promises to be an unmissable event for everyone in the Out of Home industry."
The Asia Forum is specifically timed for the Asian Region will consist of two sessions:
Session 1 - 13.00-15.00 Beijing Time, 05.00-07.00 am UK Time
Session 2 - 16.00-19.00 Beijing Time, 08.00-10.00 am UK Time

This WOO event is free to any employee of our members, but non-members will also be able to register for €150 Euros.
---
Interested in becoming a member?
Fill in your details and submit the form, we will contact you shortly about membership...
---
Subscribe to our weekly OOH newsletter
LATEST INDUSTRY NEWS: focusing on the top OOH stories of the week from around the world.