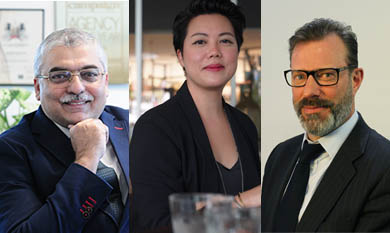 Programme of events culminates in 2022 Toronto Global Congress

The World Out of Home Organization (WOO) will hold its inaugural Asia Forum on October 28 with a full line-up of senior executives from the region, headed by Dentsu APAC CEO and India Chairman Ashish Bhasin.
Bhasin (left), currently a key player in Dentsu's transformation into six key brands worldwide, will open the Forum by discussing the need for more media owner consolidation and better audience measurement. He will be interviewed by WOO President Tom Goddard.
The Forum, a virtual event, follows the success of WOO's Europe Forum earlier this year which featured WPP CEO Mark Read. The Asia forum, which is free for WOO members and also open to non-members, commences at 13.00 Beijing time (06.00 UK time.)
It will be followed early in 2022 by WOO's first Africa Forum and then by a full WOO Global Congress from May 25 to 27 in Toronto, the first opportunity the global OOH industry has had to meet in person since the WOO Congress in Dubai in 2019.
Other speakers at the Asia Forum include Diya Xu of Phoenix Metropolis Media on 'DOOH 3.0.' and Sean Lee from South Korea's d'strict on emerging technologies, including 3D. Talon Outdoor Global CEO Barry Cupples presents a client-side view of developments in reach, technology and creativity.
There are also expert panels on Programmatic and Audience Measurement. Clear Channel Singapore Development Director Amanda Woo (middle) is joined on the Programmatic Panel by Troy Yang from Hivestack, Srikanth Ramachandran from Moving Walls, Remi Roques from Broadsign APAC and Gavin Wilson from VIOOH. They will examine how the industry can finally move programmatic forward in a realistic and unified way.
Joining Gideon Adey (right) of Gurooh on the 'OOH Value in Audience Metrics' panel will be Jim Liu of BNR, Angie Cutter from TAC Media, Rachana Lokhande from the Indian Outdoor Advertising Association (IOAA), Jun Sakurai from LIVE BOARD and Franck Vidal from Adcity APAC.
Finally, Tim Bleakley from Ocean Outdoor and Chris Lynham from the giant shopping mall owner Westfield will explore how media owner and landlord can collaborate to drive brand engagement & consumer interaction using immersive experiences to create increased value for all stakeholders.
WOO President Goddard says: "The global OOH industry is recovering rapidly from the pandemic and it's vital that we meet together as often as we can to maximise the recovery by sharing our experiences and best practice.

"Asia is making the running in many aspects of OOH - technology especially - and professionals everywhere will find much of value in the Asia experience.
"We're very fortunate to have Ashish Bhasin of Dentsu, with his unrivalled insight and experience of the region, to launch what we're sure will be a big day for the Asian, and global, OOH industry."
CLICK HERE TO VIEW THE COMPLETE PROGRAMME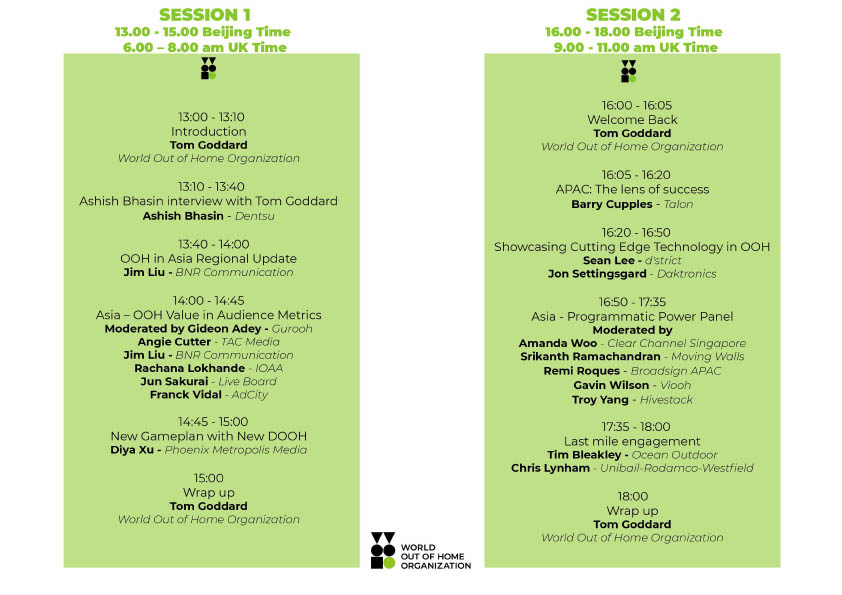 ---
Interested in becoming a member?
Fill in your details and submit the form, we will contact you shortly about membership...
---
Subscribe to our weekly OOH newsletter
LATEST INDUSTRY NEWS: focusing on the top OOH stories of the week from around the world.