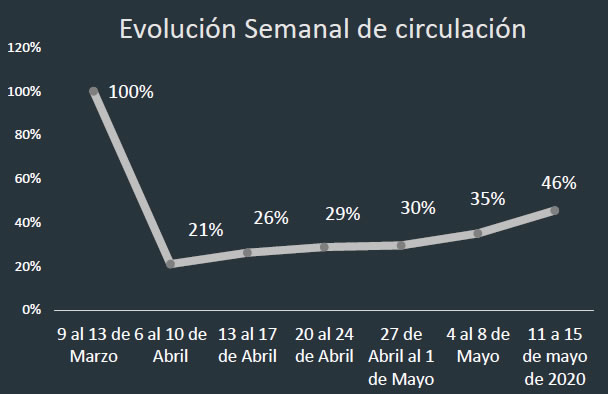 Recessions and recoveries come in various shapes and sizes - V-shaped, U-shaped, even bath-shaped (as Sir Martin Sorrell famously called the 2008 one.)

Recovery from Covid-19 looks like it may be Nike 'Swoosh'-shaped - a protracted steady but gradual curve - according to a number of submissions presented at this week's World Out of Home Organization Media Owners' webinar which hosted over 30 representatives from around the world.

Data on traffic, impressions and revenue from markets including the US, UK, China, Australia Russia and Sweden showed the number of people Out of Home steadily increasing as countries relaxed (to varying degrees) their lockdowns. Advertising impressions were clearly ahead of distance and frequency of travel in some instances. Revenue was still lagging to an extent as many major advertisers (particularly in the US) imposed a moratorium on advertising.

Rebuilding confidence among advertisers and media agencies is therefore clearly a priority for WOO media owner members and the Organization itself.

The webinar heard about a number of initiatives including donating free space to small businesses and community organizations, many of which are gaining the attention of commercial brands.

Secretary General Mark Flys also reported on the success of Talon and Grand Visual's user-generated 'Sending Love' campaign, running in 153 cities in 24 countries courtesy of 72 generous media owners (below), many of them WOO members. WOO helped to facilitate the campaign which is also becoming a noteworthy social media success. WOO's own major marketing campaign to show the impact and reach of OOH will be unveiled later in the year.

WOO President Tom Goddard says: "It's clear from evidence all round the world that eyeballs are coming back to our medium in a significant way and that's the surest base for recovery. What we now have to do is persuade more advertisers and agencies to invest in relevant, targeted campaigns.

"The Media Owners webinar is a great way for members to share best practice and learn from each other as we tackle recovery. These meetings have helped to bring the industry together even more and will play a big role as we navigate the remainder of 2020 and beyond."
Interested in becoming a member?
Fill in your details and submit the form, we will contact you shortly about membership...