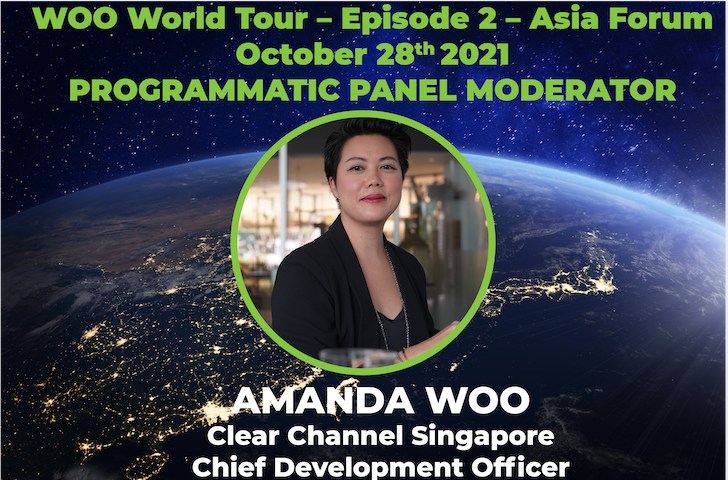 Clear Channel Singapore Chief Development Officer Amanda Woo will moderate the Programmatic Panel at the World Out of Home Organization's forthcoming Asia Forum on October 28.
With 15 years of experience in media, marketing, business development and strategic partnerships, Amanda Woo leads the overall development strategy at Clear Channel and serves as an integral member of the Executive Management Team. Her role includes growing a leading OOH business through digital, technology and scale.
The World Out of Home Organization's first Asia Forum, a virtual event, is headlined by an interview between Dentsu International CEO APAC and Chairman India Ashish Bhasin and WOO President Tom Goddard.
WOO Chief Operating Officer Mark Flys says: "Programmatic is one of the ongoing talking points in Out of Home, not just in Asia but worldwide. We're delighted that Amanda, who is at the absolute forefront of digital and technology in the region, has agreed to moderate our Programmatic Panel."
Amanda will be joined by a top expert programmatic panel from across the region.
Further Programme and Speaker Announcements will be made in the coming weeks.
This WOO event is free to any employee of our members, but non-members will also be able to register for €150 Euros.
---
Interested in becoming a member?
Fill in your details and submit the form, we will contact you shortly about membership...
---
Subscribe to our weekly OOH newsletter
LATEST INDUSTRY NEWS: focusing on the top OOH stories of the week from around the world.