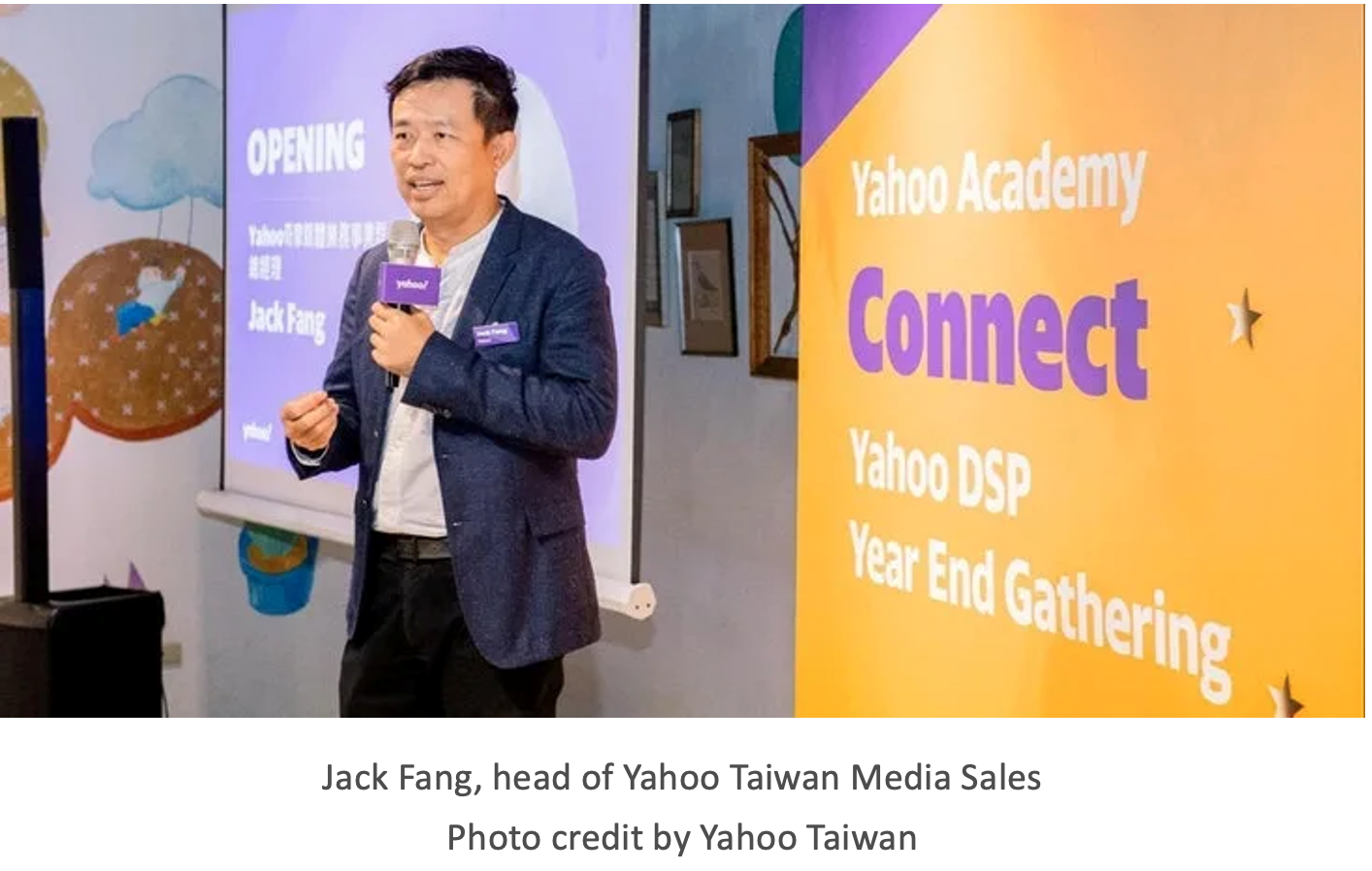 As the leader of Taiwan's portal website, Yahoo Taiwan DSP initially cooperated with PilotTV to provide a DOOH network across three fields: convenience stores, department stores, and transportation. These DOOH spots span 1147 fields, and 1426 screens, and accumulated more than 3 million viewers per day. Using facial recognition technology to collect the age and gender of the viewer in front of the screen, and gain insight into each geographical correlation (screen position) and the flow attribute in the different time slots.
In 2022, Yahoo Taiwan includes DOOH to Yahoo DSP programmatic buy this year to build a Yahoo DOOH network. With Yahoo O2O services, advertisers can purchase multiple advertising formats via a one-stop service. Yahoo can follow the budget scale to develop the best-fit omnichannel marketing strategy.
Jack Fang, head of Yahoo Taiwan Media Sales, said that despite the end of the cookie era, Yahoo has a multi-channel database that is still a powerful data resource for digital advertising ecosystems. In addition, Yahoo will maintain its strong data force to move forward bravely for emerging traffic such as DOOH that continues to be developed or creating immersive advertising experience, layout metaverse business opportunities, etc.
台湾Yahoo将DOOH纳入Yahoo DSP程序化购买,创造一站式全媒体行销服务
身为台湾入口网站龙头,Yahoo Taiwan DSP与PilotTV合作,提供DOOH 点位横跨三大场域:便利商店、百货公司、与交通要道,这些DOOH 点位跨 1,147 场域、1,426 萤幕数、每日超过300 万人流。采用面部识别技术收集屏幕前观众的年龄和性别,并深入了解不同时段的每个地理相关性(屏幕位置)和流量属性。
2022年Yahoo台湾将数位家外媒体(DOOH)纳入Yahoo DSP程序化购买,建构 Yahoo DOOH 联播网,将服务版图涵盖线上与线下,满足广告主一站购足多元广告格式. Yahoo能依照预算规模制定最适合的全频道行销策略。
Yahoo 奇摩媒体业务事业群总经理Jack Fang表示,尽管 Cookie 时代告终,但Yahoo拥有多元频道资料库,仍是数位广告生态系强而有力的数据资源。此外,持续开发的新兴流量如 DOOH,或是打造沈浸式广告体验、布局元宇宙商机等,Yahoo 都将保持强韧的数据力勇往直前。

---
Interested in becoming a member?
Fill in your details and submit the form, we will contact you shortly about membership...
---
Subscribe to our weekly OOH newsletter
LATEST INDUSTRY NEWS: focusing on the top OOH stories of the week from around the world.