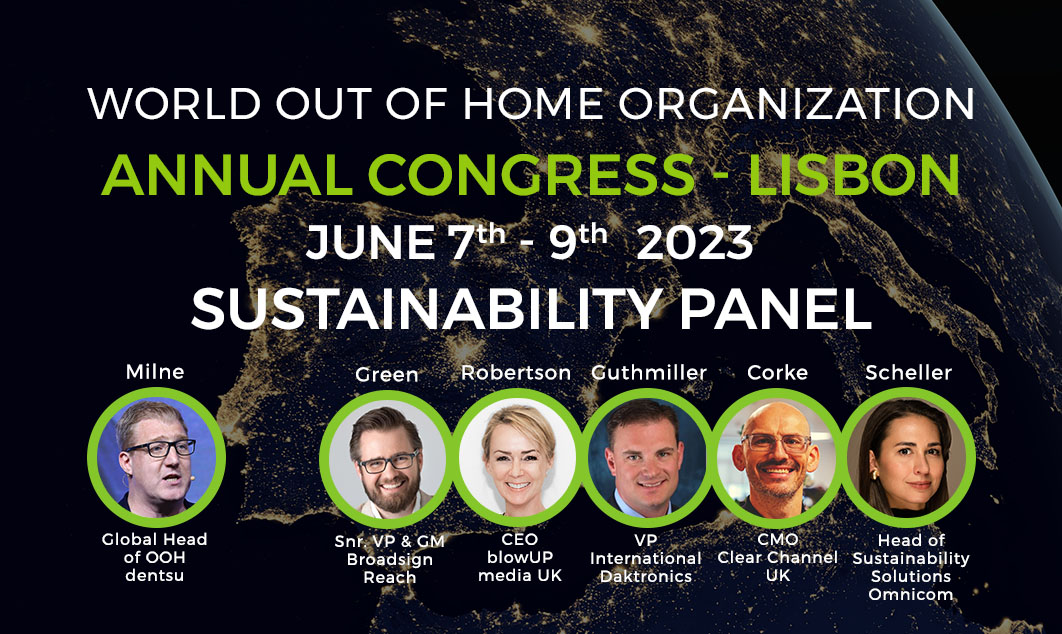 Sustainability will be one of the top items on the agenda at the World Out of Home Organization Global Congress in Lisbon from June 7-9.
WOO has just announced a Sustainability Task Force led by blowUp Media CEO Katrin Robertson and she will be one of a heavyweight panel discussing the subject in Lisbon on the second day of Congress.
Joining her on the panel moderated by dentsu Head of Out of Home Ben Milne will be Adam Green, Senior Vice President and General Manager of Broadsign Reach, Judd Guthmiller, Vice President International Daktronics, Clear Channel UK CMO Martin Corke and Stephanie Scheller (Co-Founder OMG Momentum, driving sustainability transformation in media and marketing)
WOO president Tom Goddard says: "Sustainability is arguably the major issue for the world's big companies right now. But they're grappling with sustainability in manufacturing and the supply chain so the task of reducing advertising emissions falls increasingly on media owners and customers, including tech suppliers and agencies.
"Our Congress panel is well qualified to examine this pressing issue from all sides and will be able to give a valuable steer to the efforts of WOO members, large and small, as we continue the task of making ourselves better global citizens."
With the WOO Lisbon Congress fast approaching, we are excited by the high number of registrations so far and would suggest you register for the Congress as soon as possible.
Click on here for the draft programme
---
Interested in becoming a member?
Fill in your details and submit the form, we will contact you shortly about membership...
---
Subscribe to our weekly OOH newsletter
LATEST INDUSTRY NEWS: focusing on the top OOH stories of the week from around the world.