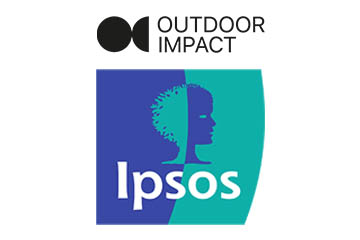 New OOH currency in Sweden.
Summary:
- Outdoor Impact and Ipsos have released its first set of data for its new planning system measuring outdoor media in Sweden.
- Outdoor Impact 2.o measures over 40,000+ outdoor screens with greater granularity
- The new system is available to all subscribers of Outdoor Impact
Media owners, advertisers and agencies in Sweden now have access to Outdoor Impact 2.0, a new OOH measurement system designed by Ipsos to evolve the understanding of Out of Home audiences.
This new tool brings together new traffic measurements, travel habit studies and calculation models to estimate reach and contacts for over 40,000 outdoor objects in Sweden. It increases the capacity to analyse different media at a more granular level for different target groups, places, and formats.
Key enhancements include:
- Improved traffic flow calculations and externally verified data from non-public sources
- Greater granularity data for indoor environments, including contact levels based on pedestrian flow per area
- Enhanced software with basic and advanced user access
The system also contains new travel studies from about 4,000 consumers, and these will be supplemented with another 3,000 by 2024.
Ulrika Danielsson, Project Director at Outdoor Impact said: "Ipsos was able to offer us a good solution that included a completely new travel habits survey, a web-based tool with a modern user interface and a well-thought-through method. That they also had experience from similar projects in other markets was an added benefit that makes it possible for agencies and users of the system to compare the results for their international customers. During the project, Ipsos has also proven to be a responsive partner and knowledgeable sounding board. Together we, the Outdoor Committee and Ipsos, have developed a world-class system and neither of us could have done it on our own." Ulrika Danielsson, Project manager Outdoor Impact."
Liz Landy, Global Head of Audience Measurement at Ipsos, said: "We are very excited to see Outdoor Impact 2.0 launch in market. The pandemic forced us to rethink and embrace new techniques which has helped to push the system to new levels of measurement and granularity. We are thrilled to have been able to deliver an innovative service that is future-ready."

---
Subscribe to our weekly OOH newsletter
LATEST INDUSTRY NEWS: focusing on the top OOH stories of the week from around the world.