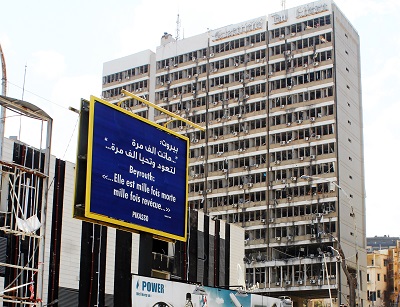 "We appeal to all our friends in the global Out of Home community - even as we're all still suffering from the pandemic - to donate generously as individuals and companies to the various bodies, including Caritas, helping us get back on our feet." - Antonio Vincenti, CEO, Pikasso
(Donation details are at the bottom of this article)

The Out of Home industry in Lebanon has responded quickly to the crisis in that country following the calamitous explosion in the port of Beirut which killed at least 160 people and injured thousands more.
The OOH response has been led by Pikasso, the Levant's biggest Out of Home company. Pikasso is led by WOO board member and former FEPE International President Antonio Vincenti.
Among the measures taken are a billboard campaign featuring NGO Caritas with essential information for the local population with digital screens showing key moments in the crisis and the vital role of local medical and key workers. Messages from the date of the disaster include:
1/ Resilience
Billposted 48 hours after the blast to welcome France's President Emmanuel Macron, the International Press and to boost the morale of the Generation Z and Millennials who had never witnessed war. Relayed on social media.
2/ We're here to help
Highlighting the most reliable NGO's on the ground helping the population with their name, the service provided and the call center number.
This campaign started on Friday August 7 and is still running on DOOH screens in Beirut City and on the main central Highway.
3/ The World supports the Lebanese population
On Saturday August 8 and Sunday August 9 the Lebanese flag was digitally projected on the the world's main cities as a sign of sympathy and solidarity..
4/ We pray for our Victims
Displayed on Tuesday August 11 marking seven days after the blast.
5/ Our Heroes
The last activation featuring medical and rescue teams, local helpers and citizens who have played an extraordinary role in rescuing, treating and assisting the inhabitants.
Antonio Vincenti says: "In all my time in Lebanon this is the biggest blow in a turbulent and challenging period, with the colossal damage caused by the explosion compounded by incredible political problems.
"We have to stand by the community - as Citizen Billposter perhaps - and play our part in helping the country and the region recover. That's the best way to help our people who have already suffered enough.