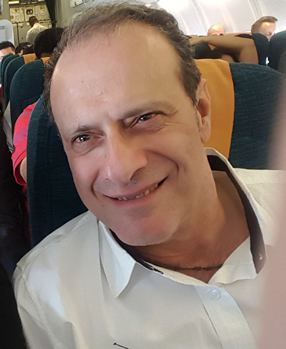 Salah Asmar, A Brilliant Mind & A Big Heart
By Samar Abou Farah
On October 1st 2020 our dearest colleague and friend Salah Henry Asmar passed away. From the moment he had started to work in our company in November 2018 he became an important part of our business strategy thanks to his knowledge of the market and great experience.
Before starting in the OOH media he worked as Chief Editor in many different mediums because he held a diploma in Journalism and Public Relations from the University of Lebanon. He also worked as brand manager and marketing since he held a diploma in Graphic Arts and Publishing from the University of Fine Arts in Paris. One of his great experiences in Qatar was the events world, he worked as Creative Director and Production Manager designing concepts from scratch, printing and building structures for stands and exhibition spaces and was involved in the biggest events in Doha through his work.
When Salah was welcomed in the Dooha Media family, he cheered up the team, he revolutionized our way of working by breaking our routine and our rules with his eccentric thoughts and his incredible creative mind. He brought innumerable ideas to the team, he increased our clients and our sales significantly; but most importantly, he brought to us kindness and generosity.
We are thankful that we lived with him so many experiences for the last two years, he will be missed tremendously. Please keep Salah's family in your thoughts as they go through this difficult time.
THE DOOHA MEDIA TEAM:
"A friend, colleague and brother; his commitment to the company is his legacy and he will never be forgotten. Your smile will always light the moments of darkness Salah." Samar Abou Farah
"A colleague who became like family, a very generous person always ready to help. He had a unique and fantastic personality, I will miss him dearly..." Jerry de Vries
"He was a colleague and family. Funny and most genuine person I know with a pure heart. I am grateful to have worked with him." Cherry Anne Aurelio
"He was a friendly kind-hearted colleague family-like that had vast ideas and out of nowhere humorous jokes." John Angelo Mallari
"A colleague and friend with a creative mind and a humorous personality. I'm lucky that I worked with him, and I'll miss him dearly." Erroll Sanguyo
All of us at the World Out of Home Organization pass on our sincere condolences to Salah's family and colleagues.