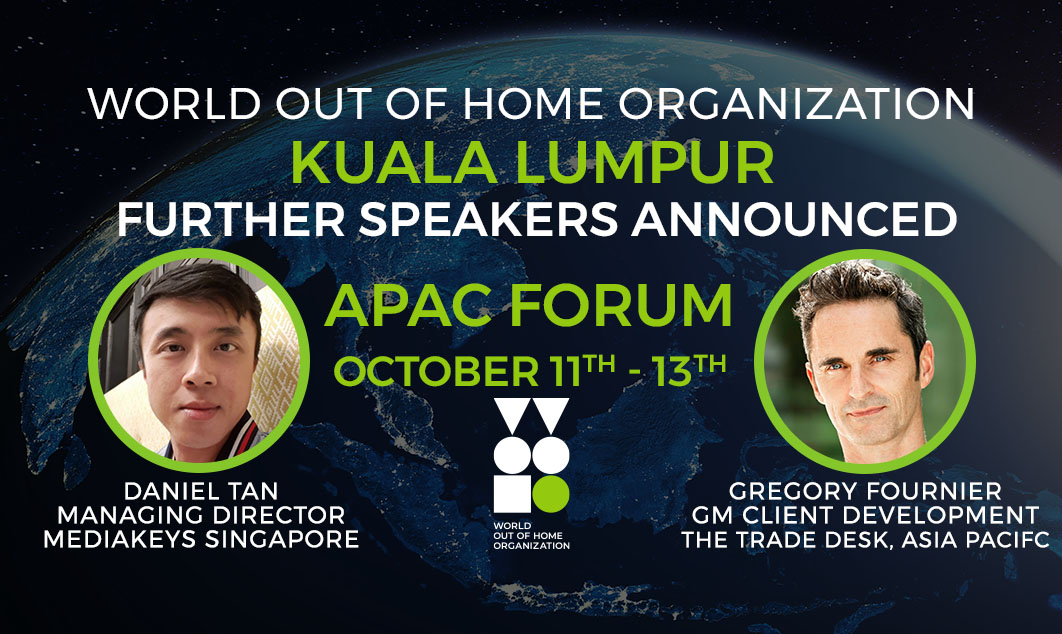 Speakers from The Trade Desk and Mediakeys Singapore join WOO APAC Forum line-up
Gregory Fournier, General Manager, Client Development, The Trade Desk, Asia Pacific and Daniel Tan, Managing Director, Mediakeys Singapore have joined the line-up of speakers at the World Out of Home Organization's APAC Forum to be held in Kuala Lumpur, Malaysia from October 11-13.
The Trade Desk is one of the world's leading technology companies focussing on programmatic advertising and Fournier will explore recent developments including the burgeoning opportunities for Out of Home in omnichannel advertising.
Mediakeys is a major independent advertising network in the region covering the spectrum from creativity to media via technology. Daniel Tan will focus specifically on the Korean market, home to many of the most innovative and far-reaching developments in digital OOH.
WOO CMO Richard Saturley says: "The growth of omnichannel is a major opportunity for Out of Home to spread its wings and capture revenue that has hitherto been the preserve of other media, not just in the APAC region but globally. Gregory Fournier is the ideal speaker to guide us towards this exciting frontier.
"Daniel Tan is an expert on the Korean market among many others and he will bring fresh insights into one of the world's most dynamic and influential media markets.
"They join a line-up of highly impressive speakers which will make the WOO APAC forum an unmissable event for everyone in Out of Home and the wider media world throughout the region."
Click here for a Forum overview and here for the Forum Preliminary Speaker Programme
CLICK HERE TO REGISTER
WOO Local APAC Forum Sponsors & Exhibitors

---
Interested in becoming a member?
Fill in your details and submit the form, we will contact you shortly about membership...
---
Subscribe to our weekly OOH newsletter
LATEST INDUSTRY NEWS: focusing on the top OOH stories of the week from around the world.