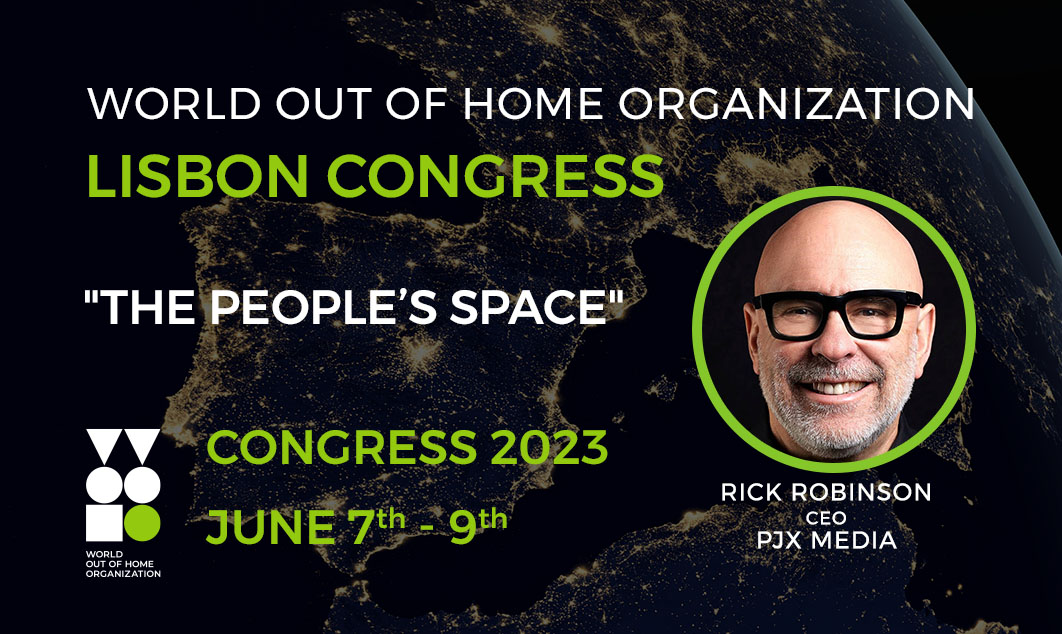 "The People's Space" by Rick Robinson, CEO of PJX Media. A quick-moving and entertaining look at the role of OOH media's impact in the public space. Recent OBIE, DRUM, and Cannes winners are featured to explore how creative thinking and OOH Media work together to bring forward intrigue, humor, and the sweet spot between content and context. No charts or maps, just eye candy. 20 minutes.
Speaker Profile
Rick Robinson is an OOH Media executive, public speaker, author, and sculptor. He started in the OOH business as a local salesperson and has developed, marketed, planned, or bought virtually all forms of traditional and non-traditional OOH media over his 37-year career. Rick is currently the Chief Executive Officer of NY-based OOH agency and AdTech provider PJX Media.
Previously Rick served as the Chief Creative Officer in Residence at the OAAA and as a member of West Hollywood's Design Excellence Review Committee for the Sunset Strip.
His legacy of achievement stretches across multiple disciplines including local and national sales, OOH media planning & buying, product development, marketing & promotions, legislative testimony, creative commentary, data science applications, and executive leadership. Rick is internationally recognized as one of the most versatile, influential, and passionate advocates in the OOH industry today. He is a highly requested public speaker for trade groups, ad clubs, universities & OOH companies across the globe.
Rick is a powerful communicator, relationship builder, change agent, and inspired leader. He has delivered value and growth at every organization throughout his career. His calling card is one of strategic thinking coupled with innovative solutions leading to material business outcomes. He is forward-leaning yet prudent, gains consensus where needed, and is well-known for representing the highest levels of fairness and integrity.
As an energized catalyst for the business, he has been recognized with the industry's most prestigious honors (OAAA Hall of Fame & The L. Ray Vahue Marketing Award of Merit). Rick believes OOH is at its best when media, creativity, and technology work together to achieve a perfect merger of content and context - all in service of the public realm. The OAAA published his book on the topic, "The People's Space", in 2013.
Rick's personal pursuits include local pro-bono work for the arts as Board President and Advisor for Art Share LA where he gained LA City Council recognition while rescuing and stabilizing the organization after the 2008 recession. He has shown his Primitive Pop steel sculptures at galleries all over the world, and his secret indulgence is racing stock cars with his father in Northern California.
---
Interested in becoming a member?
Fill in your details and submit the form, we will contact you shortly about membership...
---
Subscribe to our weekly OOH newsletter
LATEST INDUSTRY NEWS: focusing on the top OOH stories of the week from around the world.